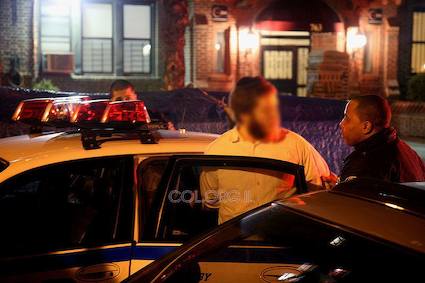 CROWN HEIGHTS, Brooklyn [CHI] — A number of Shomrim members responding to a call were ambushed and gang assaulted. The incident took place earlier tonight, Motzoai Shabbos, when Shomrim got the call about a dispute inside 749 Eastern Parkway, members arrived on scene and began sorting out the incident when a large gang converged on the room and trapped the members inside.
As the situation began getting out of hand Shomrim members called for backup and for police assistance. The crowd then started throwing punches and assaulting the members.
More in the Extended Article!

When police officers arrived on scene, they began sorting out who's who and moving everyone out of the premises. As officers were preparing to leave a second fight broke out where three Bochurim attacked a Shomrim member who went back in to find his glasses and yarmulke, the commotion was heard outside and officers ran back into the building and witnessed a Bochur standing over the member, who was laying on the floor, with a fire extinguisher trying to hit the member with it. Following what the officers had witnessed they arrested the two Bochurim and locked them up, there were no other arrests made.
A number of Shomrim members were treated on scene for scratches and bruises, but were B"H not seriously injured.
The gang of Bochurim, who are known as the 'Tzfatim', are notorious for their terror tactics, most recently their assault on a member of the community, Reb Yitzy Vail, a handyman who was doing work for the Gabboim inside 770, was viciously assaulted and his entire tool box stolen. As if that was not enough, the next day they stole his clothing from the Mikva with all his possessions including his wallet and keys, leaving him naked without any means of getting a change of clothes.
Another Mikva goer had pity on him and went to his house and got him a change of clothes. The gang then threatened Reb Vail and told him the only way he will get his possessions back is if he promises not to press charges against them.
These terror tactics were employed here against an Israeli Bochur, whom they tried to evict from his room. The Bochur called family members of his to come help him out when they were assaulted and called Shomrim.
UPDATE: As of 3:00 AM this morning the two Bochurim have been released and given Desk Appearance Tickets.