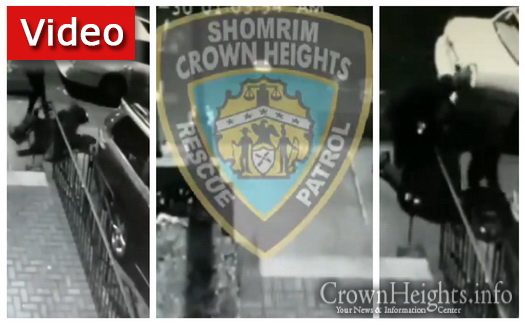 Two People Viciously Assaulted by Gang of Three in Crown Heights
Two Jewish men were left bloody and beaten following a vicious gang assault spree in Crown Heights Tuesday night. The NYPD has arrested two members of the gang, and is searching for a third.
by CrownHeights.info
A gang went on a violent beating spree Tuesday night in Crown Heights, leaving two Jewish men beaten and bloody.
The beatings occurred a few minutes after 1:00am on President St between Albany and Troy Ave, when the gang of three began targeting Jewish men on the block.
Their first victim, an older man, was pushed to the ground before being pummeled mercilessly with punches and kicks to his face and body. The beating, caught on video, only ended when the three suddenly broke away and fled.
Just a few minutes later, the gang targeted a second man. The second victim was younger, and put up a fight, screaming for help and struggling with them.
Witnesses and victims immediately called 911 and Crown Heights Shomrim, who were both there in moments.
As they canvassed the area looking for the gang, a group matching the description of the gang was located on Crown St and Troy Ave. When the NYPD stopped the group, they attempted to flee. Two were caught, while the third got away.
Shomrim, working with the police, were able to bring both victims to the 71st precinct where they positively identified their attackers.
No words were spoken during the beatings, and the gang did not attempt to take any belongings from the victims.
Video footage of one of the assaults was obtained by Crown Heights Shomrim.
NYPD Hate Crimes Task Force will be investigating the assaults.
#HappeningNow great response and #Collaboration by @NYPD71Pct and our Vol two under arrest for vicious assault. One outstanding Perp at this time #TeamWork pic.twitter.com/Jzfdq570WP

— CH Shomrim (@ShomrimCH) January 30, 2019