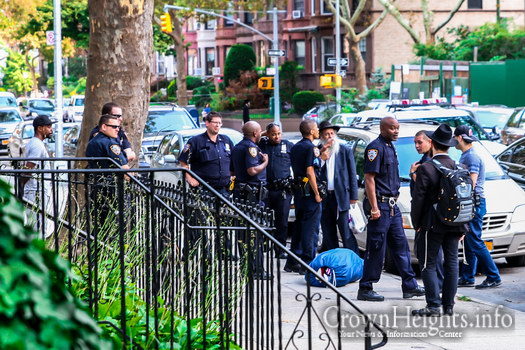 An African-American man was arrested after he assaulted a Jewish man in Crown Heights on Sunday afternoon.
by CrownHeights.info Staff
An altercation between an African-American man and a Jewish man turned violent after the pair accidentally bumped into each other on Sunday afternoon.
The victim, a 54-year-old Jewish man who was visiting from out of the country, complained of pain and injuries after being assaulted by the other man, who is in his 30s.
Officers caught up with the suspect, and — after hearing details from both parties — placed the African-American man under arrest and charged him with assault in the 3rd degree, a misdemeanor.
"Although both accused the other of hitting, given the age difference and the fact that the [Jewish] victim sustained injuries while the other did not, only one was placed under arrest," said a police source.
Photos by Sholem Srugo