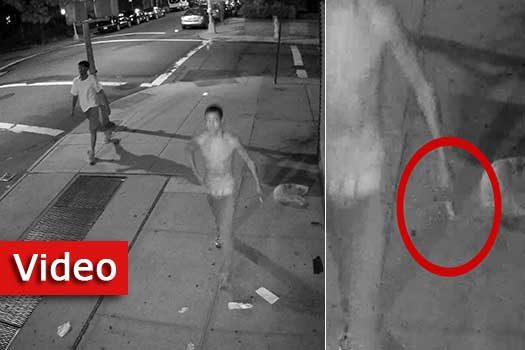 Last night at around 12:20am, Crown Heights Shomrim received a call from a Yeshiva student from Israel who was the victim of an attempted robbery at knifepoint while on his way back to his dormitory. The same duo mugged two others and made off with cash and cell phones.
The incident occurred near the corner of Eastern Parkway and Albany Avenue, right in front of Apple Bank.
The victim said the two perpetrators passed him on the street, and then turned around and began to follow him. As soon as he realized he was being followed, one of the two men ran up to him with a knife and demanded that he hand over all his valuables.
As he reached into his pocket, the perpetrator fumbled with the knife and dropped it on the ground. The victim utilized this opportunity to run into the street and scream for help. An approaching car scared off the perpetrators and they fled.
Since the victim spoke little English, Shomrim assisted the victim in filing a police report. While there, the Shomrim volunteers learned of another two robbery incidents that were likely perpetrated by the same two suspects in the confines of both the 71st Precinct as well as the 77th Precinct.
The second robbery occurred at around 12:45am on Eastern Parkway and Troy, where a Hispanic man was robbed of his cell phone and book bag. The victim was also punched in the face and suffered an eye injury.
The third robbery occurred at around 1:00am on the corner of Park Place and Albany, where a white male was robbed of his iPhone and $200 in cash. This victim did not report any injuries from the incident.
The two suspects in all three incidents used a knife to rob their victims. They are described as African-American males, one in his  teens and the other in his late 20s, one who was wearing a white shirt and dark shorts and the other wearing no shirt and dark pants.
Anyone with further information that may help lead to the suspects in encouraged to contact Crime Stoppers at 1-800-577-TIPS.
Security footage by ShinBet Security – 347-515-4261