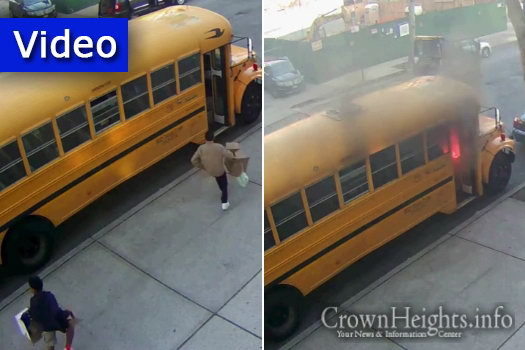 Surveillance Camera Captures Bus Arson
CrownHeights.info has obtained surveillance footage that clearly captured the arson incident which occurred in front of Beis Rivkah Sunday evening, in which a school bus was set ablaze by a group of children.
In the video, several children can be seen boarding the bus with scraps of cardboard in their hands. A short while later, a fire can be seen burning towards the front of the bus, and the children flee. The fire soon engulfs the bus.
One of the suspects, an 11-year-old boy, was arrested and charged with a hate crime as a juvenile in connection with the incident. Police were able to apprehend the suspect thanks to the quick response of Shomrim volunteers who identified the group and kept an eye until police arrived.
Police detectives are confident that the remaining suspects will be apprehended and charged over the coming days.