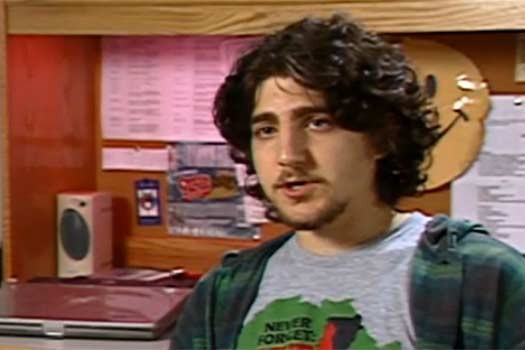 Aaron Akaberi, appearing on comedy central in 2006.
Police arrested Aaron Akaberi again last week after discovering that he was in possession of a substantial quantity of drugs. He was charged with possession with intent to distribute and other charges.
The incident occurred last week Tuesday at around 1:30am on Lefferts Avenue near Troy Avenue.
According to a complaint filed in criminal court, a police officer observed Akaberi slumped over and asleep in the driver's seat of a 2013 Hyundai Sonata that was running. The officer also observed a number of pills and a bottle open on the car's center console out in plain view.
Police took Akaberi into custody, and after conducting a search they discovered that the pills were amphetamines, and that he had additional pills in his jacket pocket along with two cellphone and over $900 in cash.
A check of his driving privileges revealed that he had nine suspensions on his license, all for failing to respond to traffic summonses. The vehicle he was driving appears to be a rental car. He was arraigned on Friday and held on $4,000 bail, which is unclear if he posted.
Just over a month ago, police raided a 'crack house' allegedly occupied by Akaberi. Police discovered a large cache of drugs and arrested three individuals, while a fourth – Akaberi – fled. He was captured a short while later inside a girls' school building around the corner.