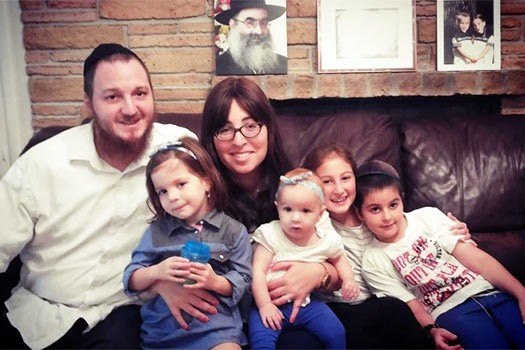 A campaign to raise funds for a security system has been launched in the wake of a terrifying nighttime burglary in the home of Chabad Shluchim in Cancun, Mexico.
The incident happened last week Thursday as the Druk family was asleep when a burglar broke into their home as they all slept. Surveillance video from inside the house revealed the burglar spaying a chemical in a room where the children slept, which presumably knocked them out.
Chani Felling, a friend of the family shared the story on Generosity.com, a fundraising site which gives 100% of the donations directly to the recipient. She wrote the following:
Last Thursday, the Druk family experienced a real life nightmare when a burglar broke into their home and robbed them of all their valuables.
The entire family was home at the time of the robbery. A video camera captured footage of the burglar breaking into the Druk's home. He is then seen going into Rachel and Mendel's room and then their children's rooms, and spraying a chemical agent that knocked out the entire family who were already asleep.
He then proceeded to collect anything and everything of value, with the Druk family in their beds, inches away.
When Mendel and Rachel woke up the next morning to their children's fits of nausea and retching, they found their home in disarray and valuables gone. Thank G-d everyone was left otherwise physically unharmed.
The Druks immediately contacted the Mexican police, but despite the video footage the police told them there is nothing to be done to recover their belongings or even catch the criminal.
Mexico's reputation as a crime-ridden country makes this not much of a surprise. Thus the Druk's are not only left without so much as a phone to reach their families, but will not even get some semblance of closure after so traumatic an experience.
The goals of the fundraiser is to collect money that will go into a proper home security system, a security system for the Chabad House and to replace some of the many belonging's that was stolen.
To read more about the incident and to donate Click Here.