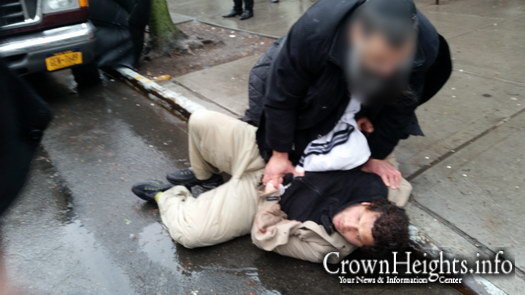 A Kingston Avenue panhandler, known for his aggressive and unstable behavior, was forcibly admitted to the psyche ward at Kings County Hospital after he threatened and assaulted a person who refused to give him 'tzedakkah.'
Shomrim were called to the scene, where they found a Lubavitcher holding the beggar on the ground in front of Shain's Shul on Kingston Avenue. They were told that the man was being held by the person he assaulted after he did not give him money.
"I was sitting in my car when he suddenly started kicking my door, when I got out he started hitting me," the victim said.
Shomrim immediately called 911 and officers responded within moments, but could not arrest the panhandler since the victim refused to press charges. Instead, police took him to the 'r' building at Kings County Hospital.
This panhandler has a long history in the short time since he showed up in Crown Heights. He was arrested in the past for multiple robberies of Kingston Avenue businesses, as well as assault when he attempted to shove a person into Eastern Parkway traffic when he refused to give him money.
A law enforcement source noted that since the victim was not willing to press charges, the panhandler can probably check himself out of the psyche ward any time he likes.