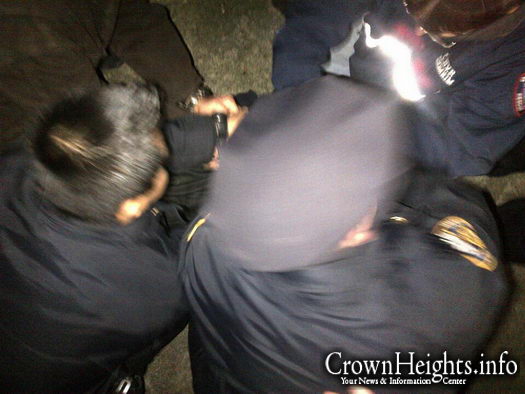 Shomrim Patrol Nabs Midnight Car Burglar
CROWN HEIGHTS [CHI] — Frustrated and fed up that the Crown Heights neighborhood has been crime's 'punching bag' this past week, the Shomrim Patrol put out a number of additional patrols to cover the neighborhood. Last night it paid off with the apprehension and arrest of a car burglar.

Since the High Holidays Shomrim volunteers have maintained a patrolling vehicle with two men every single night between the hours of 8:00pm and 10:00pm. Over the past week it has been stepped up to as many as three or four cars a night.
Last night, Motzoai Shabbos, three cars were out on the street. At approximately 11:00pm they spotted an African-American man who was behaving suspiciously. After following the suspect for nearly an hour, Shomrim volunteers witnessed him breaking into a minivan on Montgomery Street and Troy Avenue.
Police were immediately called and Shomrim continued following the thief from a distance, careful to keep an eye on him. The man had reached Eastern Parkway and Utica Avenue, where he attempted to sell some of the items he had taken from the car – the most expensive being a GPS device.
Unsuccessful in making the sale, the man noticed he was being followed and began fleeing towards Rochester Avenue. Shomrim volunteers did not lose their cool and headed the thief off at the end of the block, which he never reached.
One razor eyed volunteer – with the aid of a local resident – spotted the man hiding in the front yard of one of the homes behind some bushes.
By now an army of cops had flooded the area and once the man attempted to flee again he was apprehended – but not before making it into the back yard of a building. The man was arrested and some of the property from the car was recovered in his possession.