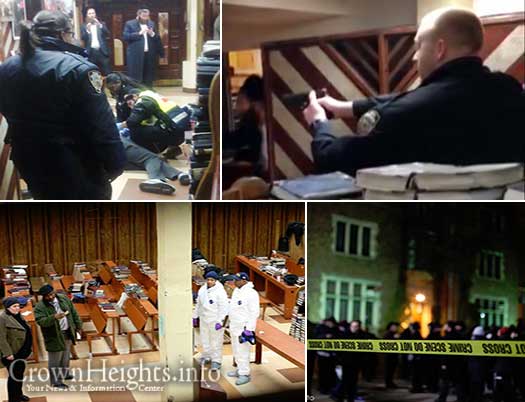 BREAKING: Bochur Stabbed Inside 770 by Deranged Man
A 22-year-old Bochur [rabbinical student] was critically injured after being stabbed in the neck by a disturbed man in the main synagogue sanctuary at 770 Eastern Parkway. The stabber was shot by police officers and later died of his injuries.
The public is still being asked to say Tehillim for Levi Yitzchok ben Raizel.
The incident began to unfold at around 1:30am, when a Black man entered the synagogue sanctuary in the Lubavitch World Headquarters at 770 Eastern Parkway and confronted a group of young rabbinical students while carrying a large switchblade-style knife.
The man appeared to be disturbed and was visibly agitated, according to multiple witnesses. The attacker spoke with the men for a minute when he suddenly pulled out a knife and stabbed one of them in the neck. The victim fled out the main doors of the building and collapsed on the sidewalk in front of 770.
The victim was identified by friends as 22-year-old Levi Rosenblat, who is from Beitar Ilit, Israel, and is in the states studying in 'Kvutzeh'.
The victim and witnesses fled the synagogue and called out for help; police officers responded within seconds and confronted the suspect still inside.
Cellphone video reveals the NYPD police officers exercising extreme restraint, repeatedly ordering the suspect to drop the knife – all while he is asking others around him if they "want to die tonight."
At one point it appeared that the man dropped the knife and the incident had concluded without any further bloodshed, but as officers move in to take the suspect into custody he quickly lunged for the knife and once again began threatening officers.
As the suspect made a move towards the police, he was shot once in the chest and dropped to the ground. Police then move in and cuff him.
In the meantime, Hatzalah volunteers were outside 770 treating the victim, and once the suspect was restrained they were called in to treat him as well – now the victim of a gunshot wound.
Both victim and assailant were rushed to Kings County Hospital and were both initially listed in critical condition. The victim was later 'upgraded' to stable – yet still critical – condition. The suspect succumbed to his wounds and died at the hospital.
The suspect was identified as a 50-year-old man, but his name was being withheld pending his family's notification.
This is a consolidated story of many updates we have been posting since 2:23am.
Photos by Benams Photo and Benjamin Lifshitz
WARNING: Graphic Video, viewer discretion advised.
WARNING: Graphic Video, viewer discretion advised.