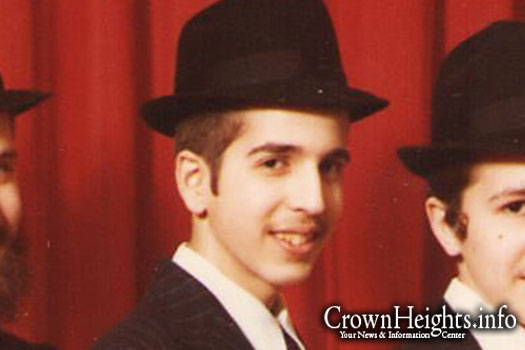 Avremi Goldman, HYD.
Camp Fund Memorializes Slain Teenager
On a Sunday night, the evening of Monday, the 27th of Sivan, 5737 (June 12, 1977), Avrohom Eliezer Goldman, HYD, was tragically and brutally torn from our midst at the tender age of 17.
Avremi was an unusual youngster, with a potential for greatness. His shining smile and his modest, unassuming demeanor captivated the hearts of all – adults, teenagers and children alike.
He was outstanding in his learning at the Yeshiva, as well as outstanding in his character traits. Parents held him up to their children to emulate. In his short span of life, he upheld – to a degree of perfection – the three pillars of life: Torah, Avodah and Gemilus Chasodim.
Avremi would stay up until the late hours of the night learning even more. He went out of his way to help others with their learning. His sincere prayers, with his melodious voice, inspired and served as an example even for adults.
He was known as one who would never refuse another any assistance he could offer in any way.
Working on the Mivtzoyim of the Rebbe was a way of life for Avremi.
On one such occasion, he met a man in Manhattan, with whom he would put on Tefilin. After a while, this man told him that his wife had given birth to a baby girl. Avremi tried hard to convince him to give the child a Jewish name.
After he finally succeeded and the man agreed, Avremi went out of his Yeshiva on Troy Avenue to the phone booth on the corner of Montgomery St. (the yeshiva's phone was not working at the time) to call the baby's father and remind him to go to Shul the next morning to give his daughter a Jewish name.
Just then, three hooligans came and stabbed him mercilessly – for no reason other than because he was a Jew.
That evening, his pure and holy soul was returned to his maker. He was laid to rest next to his grandfather, Harav Eliyahu Simpson, ZTL, near the Previous Rebbe's resting place.
In the aftermath of the tragedy, under the guidance of the Rebbe, Rabbi Eli and Mrs. Leah Lipsker set up a fund in the memory of Avremi Goldman to help children from financially struggling families enroll in summer camp. The fund was named Keren Avrohom Eliezer, and every summer it helps many children enjoy a summer experience they would not otherwise be able to afford.
32 years later, in 2009, Mrs. Esther Goldman received a telephone call from a woman named Mrs. Pesha Ziv in Israel. "I was the baby girl whose father your son convinced to give me a Jewish name," the voice at the other end of the line said. "After all these years, I finally mustered up the courage to call you. My Jewish name is Pesha."
The woman told Mrs. Goldman that throughout her childhood she questioned her parents as to the origin of her unique Jewish name, something none of her siblings had. After learning the story of her name from her father, she was determined to learn more about her Jewish faith.
Pesha's journey resulted in her becoming a complete Baalas Teshuvah. She married a fellow Baal Teshuva and together they settled in the Jewish community of Rechovot, Israel to raise a family.
A little over a year ago, Pesha called Mrs. Goldman and announced the good news that she had just given birth a healthy baby boy. Eight days after he was born, the boy's beaming parents gave him a special Jewish name – Avrohom Eliezer.
This Sunday, Keren Avrohom Eliezer will be hosting a Chinese auction to raise funds to help send children to summer camp. The event will take place at Lubavitcher Yeshiva, 570 Crown St. [entrance on Albany Ave.], and will feature Rabbi Manis Friedman as guest speaker. Men are invited from 5:30pm to 6:30pm. Women are invited from 3:00pm to 5:30pm, and from 6:30pm and on. The program will begin at 7:30pm.