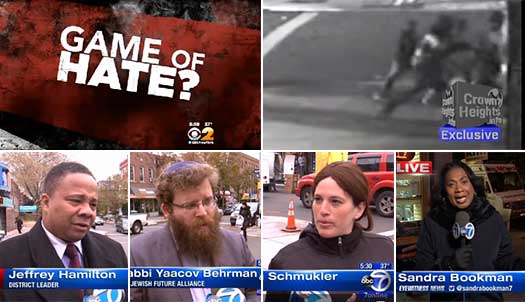 Media Coverage: CBS, ABC, NBC and Daily News Report on 'Knockout' Assaults
Following CrownHeights.info's coverage of the latest assaults on Jewish children and adults, general media, including TV and newspapers, themselves covered the story. Police confirmed that 8 incidents are being investigated as unrelated and possible hate crimes.
Local TV stations took notice of this story after we obtained a copy of surveillance video showing Sunday night's attack and published it. The video was recorded on Post-Mark-It's surveillance system, and was used in all the news reports.
CBS 2 Reported:
"Brooklyn Rabbi: Gang of Teens Playing Disturbing Game of 'Knock Out the Jew'"
The NYPD is looking into a series of attacks on Jews in Brooklyn. At least one attack was caught on surveillance tape.
Some of the assaults may be part of a disturbing game, CBS 2's John Slattery reported on Tuesday.
Police have yet to connect all the incidents, but released surveillance video that shows one group attacking a Jewish man. The video shows from a few different angles the victim, a man in a hooded jacket, getting punched.
One man who didn't want to be identified told Slattery his 12-year-old son was attacked in the same way.
"It's clearly anti-Semitism," the man said.
The 64-year-old said his son, who was dressed in traditional Jewish clothing, was attacked last Wednesday afternoon on President Street.
"One, full strength with his fist, whacked him, punched him, on the side of the face, full force," the man said.
The child went to the ground as he heard the group of five to six teens yell out.
"A hysterical, happy shout, 'We got him,'" the man said.
Video also shows a 19-year-old Jewish man being sucker-punched.
"He was actually holding an expensive camera. And they punched him and nothing was stolen," Rabbi Yaacov Behrman said.
Brooklyn Assemblyman Dov Hikind said the attacks are not muggings. It's not about money. He said the victims are being attacked because they are Jews.
Behrman said he believes the assaults are part of a disturbing game by some African-American teens.
"And they're playing a game: 'knockout.' 'Knock out the Jew,' maybe. And they're going around the neighborhood punching Jews," Behrman said.
He said that in the last two months there have been assaults and three incidents of graffiti, incidents the police have confirmed, Slattery reported.
"I think there have been a total of eight since September, middle of September," Police Commissioner Ray Kelly said, referring to the total number of incidents.
The attacks and vandalism are being investigated by the NYPD's Hate Crimes Task Force. The hope is that the suspects in the pictures will be identified.
The New York Daily News Reported:
"NYPD Investigating Crown Heights 'Knockout' Attacks on Jews As Possible Hate Crimes"
Police are investigating a series of seven attacks on Jews in Crown Heights, trying to determine whether they're the product of anti-Semitic bias or simply a twisted "knockout" game being played by street hoods.
Police Commissioner Raymond Kelly said the Hate Crimes Task Force was looking into the two misdemeanor assaults, as well as three acts of graffiti vandalism and a claim of verbal harassment.
Yet the city's top cop wouldn't call the unrelated incidents a pattern.
"It is difficult to tell at this time," Kelly told reporters Tuesday. "Obviously, some of it is based on descriptions. The crowds change in size, so it's hard to tell if it is a clear pattern."
The most recent anti-Semitic attack took place on Sunday when a group of black males allegedly attacked a Jewish resident at Kingston Ave. and Crown St.
"The attack was unprovoked and nothing was stolen," said Behrman.
The neighborhood blog CrownHeights.info said Sunday's assault was part of a "sick new 'game' called knockout, which is gaining popularity among inner-city youth at a startling rate."
The second violent confrontation erupted on Nov. 6 when about 15 black youths approached a 12-year-old boy, punched him in the face and shoved him onto the sidewalk.
"The two attackers ran back to the group screaming, 'We got him'" and received a roaring cheer," Behrman said.
Religious leaders in the Orthodox and black neighborhood — still scarred by the 1991 riots that made it an emblem of the city's simmering racial and ethnic discord — said the anti-Semitic incidents stretch back to September — and blasted the police for not making any arrests.
"We are extremely disappointed that no arrests have been (made) in any of these seven incidents," Rabbi Yaacov Behrman, the executive director of the Jewish Future Alliance said.
"We call on the NYPD to increase their efforts, to include larger police presence during prime hours and to distribute posters with identifying information to insure the perpetrators are brought to justice."
ABC 7 Reported:
"Brooklyn String of Alleged Hate Crimes Under Investigation"
A hate crime investigation is underway in Brooklyn, where there have been at least eight incidents since September, everything from acts of vandalism to violence.
All of the victims are Jewish.
The surveillance video shows the most recent assault in Crown Heights 9:30 last Sunday night as a group of young African-American males crosses the intersection at Kingston and Crown.
One of them can be seen punching a 20-year-old Jewish man in the face.
Miriam Schmuckler says she encountered the same group just moments before.
"They looked very, I don't know, they look like they were up to trouble and they were drinking alcohol," said Schmulder.
Police confirm this is just one of eight incidents now being investigated by the NYPD's hate crimes task force.
"I don't think it's part of an overall racial tension in the area, it's just something that's some how got into the minds of some youngsters," said Rabbi Eli Cohen of the Jewish Community Council.
But all of the victims have been Jewish and the alleged attackers African-American, including an October assault on a young Jewish woman on Crown Street. And just last Wednesday a 12-year-old boy was punched and knocked to the ground near Brooklyn Avenue and President Street.
Anti-Semitic graffiti has also been spray-painted around the neighborhood.
Community leaders are vowing to get to the bottom of this.
"When I heard of an incident that may have been a bias crime, be it religion, ethnicity or sexual orientation, we need to come together as a community to say no we're not going to tolerate this anymore," said district leader Jeffrey Hamilton.
As detectives went door-to-door along Kingston Avenue Tuesday looking for additional surveillance video that might lead them to those responsible, some here demanded more be done.
"I would like to see posters distributed looking for information," said Rabbi Yaacov Behrman of the Jewish Future Alliance. "I would like to see the police offer a reward. I'd like to see an increase in police presence during prime hours between 3 and 7 and frankly I'd like this to end."
NBC 4 Reports:
Recent Attacks:
11/10/13 – Jewish Man Assaulted as Part of Sick 'Knockout' Game
11/6/13 – 12-Year-Old Boy Assaulted While Playing Outside
10/31/13 – 11-Year-Old Boy Assaulted in Lefferts Park
10/29/13 – Criminals Target Young Women in Crown Heights
10/21/13 – Man Attacked by Thug Calling Him 'Dirty Jew'
10/11/13 – Public School Teacher Assaulted on Crown St.