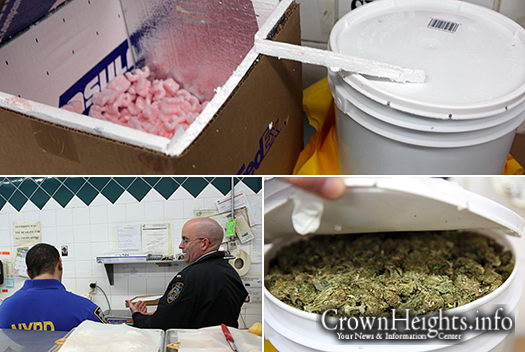 A Kingston Avenue merchant made a stunning discovery this morning. Two FedEx package containing over 25lbs of distribution grade marijuana, the strange part was a part of his name was on the package.
The incident unfolded at around 10:30 Thursday morning, the storekeeper was preparing for the days business when FedEx came in to deliver a package. Not paying much attention he accepted the two boxes and went ahead and opened them.
He made a stunning discovery. Two buckets – one two-and-a-half gallon and another five gallon – weighing in at over 25lbs stuffed with marijuana, worth well over $50,000.
The storeowner quickly closed it up and called 911.
Upon closer inspection of the shipping label the storekeeper noticed that it contained a part of his last name and a strange first name.
A few minutes later a man dressed in a FedEx uniform walked into the store and announced that there had been a mistake and he needs to take the packages back. The storekeeper responded that it had his name on it and that the police is on the way.
A community affairs sergeant followed by a lieutenant arrived and took custody of the illegal substance.
The lieutenant explained that this incident is hardly uncommon. "Drug dealers often pull this scam, they ship it intentionally to a wrong address, then show up dressed like UPS or FedEx, take the package and disappear."
Last year a UPS driver was robbed after refusing to turn over a package to a man on the street claiming it was his. He returned and put a gun to the drivers head and took the package by force.