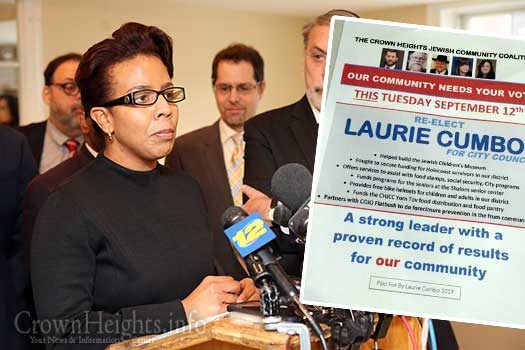 With the Democratic Primary Elections set to take place Tuesday, September 12th, Laurie Cumbo — who represents Crown Heights' 35th District and began her career by blaming "Jewish landlords" for the unprovoked attacks of the "knockout game" — snagged an endorsement from a self-proclaimed "Crown Heights Jewish Coalition," which touts her supposed qualifications and alleged assistance to the Jewish community.
by CrownHeights.info Staff
With the Democratic Party's election primaries scheduled to take place tomorrow, Tuesday, September 12th, across New York City, candidates have been proudly touting their endorsements in the hopes of securing their respective positions as incumbents, while challengers are hoping to upend this election with promises of reform.
One hot button issue is housing, and in Crown Heights, where dozens of projects are in various stages of completion, the race is particularly fierce.
Incumbent Laurie Cumbo, who currently represents the 35th council district — which encompasses most of Crown Heights, is being accused of taking a large percentage of her campaign contributions from developers, landlords and the hospitality industry.
Current zoning laws are restrictive and do not allow a number of development projects to be as large as their owners would like to build. One of those developers – Cornell Reality – which has a number of projects in Crown Heights, has already secured construction permits but has not begun work – presumably to wait for the outcome of the city council primaries. The city council members can help secure variances and other remedies to allow developers to build far larger than they would otherwise be allowed.
Cumbo being accused of "being in the landlords' pockets" is particularly ironic given insensitive statements she made after having first been elected in 2014. In an interview with The Jewish Week, Cumbo seemed to lay blame on "Jewish landlords" for the violent outbursts known as the 'knockout game,' that saw many Jewish Crown Heights residents attacked without provocation.
"Many of the buildings are owned by the Jewish community, and [black tenants felt] there was a deliberate movement to push them out of their homes," Cumbo said, adding "Young blacks might be picking up on the resentment. "It may be one of those things," said Cumbo, "that when they come home their parents are talking, 'those damn Jews,' not that they're talking to the kids but kids hear."
Cumbo also echoed the famous anti-Semitic stereotype of 'Jews with moneybags' attempting to purchase homes from black people in Crown Heights.
Further showing she's not a true friend of the Jewish community, Cumbo abstained from voting on a city council resolution denouncing the anti-Israel Boycott, Divestment and Sanction movement. The resolution ultimately passed by an overwhelming 40 to 4 vote.
Following the vote, Cumbo was quoted by Hamodia saying, "as a black woman, the fact that I'm here as a city council member is because my ancestors and the people before them had the right to boycott," proudly demonstrating her support for the BDS movements' right to boycott Israel.
Last week, a group calling itself the Crown Heights Jewish Community Coalition has come out with endorsements for the upcoming primaries, endorsing Cumbo for another term at the city council.
One of the coalition's supposed members outright denied being a part of the coalition.
We spoke with Rabbi Shea Hecht, who said "I am not sure what this coalition is, I don't know what she is talking about." When asked who 'she' is, he said "the person from Cumbo's campaign who called asking for my endorsement."
Hecht pressed on saying that he does not endorse all those listed candidates. "They will have a bigger problem when I am asked who I endorse since I endorsed Vincent Gentile for district attorney and not Eric Gonzalez as they announced."
"I have no idea about anything else, all I got was a call [from the Cumbo campaign] asking if I would endorse her, then they asked if I would take a picture with her," he said, adding, "yes I endorse [Cumbo] but I don't know of any coalitions or any other endorsements."
Hecht also pointed out that his organization, the NCFJE, received funds through Cumbo's allocations for their food pantry, "as we have received from her predecessor as well," he concluded.
CrownHeights.info also reached out to Zaki Tamir — another supposed member of the coalition — hoping to clarify details about it. He responded with confusion as to which coalition he was a part of, "are you talking about the one by [Eric] Gonzalez?" When further pressed, he asked if it was the political action committee that Shmuel Malamud and he were a part of.
Cumbo, who first assumed office on January 1, 2014, is being touted by the coalition as "helping to build the Jewish Children's Museum" as their primary reason for supporting her. This assertion is particularly eyebrow-raising, since the museum was completed in 2004, as we have reported.
The coalition also touts working with COJO of Flatbush to give foreclosure assistance, none of which is helpful to her district and residents of Crown Heights.
Cumbo is locked in a fierce battle with challenger Ede Fox, with both candidates raising campaign contributions up to the maximum – $95,095 – they can each receive in matching public funds from the city.
Fox has made her campaign cornerstone opposing overdevelopment and opposing any deal with the Bedford-Union Armory that brings less than 100% affordable housing.
Four members of the coalition contributed to Cumbo's campaign as well, including; Chanina Sperlin, who contributed $1,000, Devorah Halberstam, who contributed $175, Michaella Soffer, who contributed $175, and Zaki Tamir, who contributed $75.