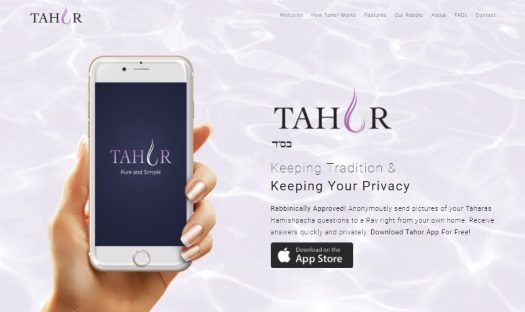 Tahor Creator Responds to Questions About App
Following the announcement of the launch of a new App – called Tahor – to assist women with Bedikah Inquiries, fierce debate over the Kashrus of such an App ensued, while others hailed it as being long overdue. Zisa Levin, one of the apps creators, has authored a response to questions about the App.
This response comes following the publication of a letter by Rabbi Sholom Ber Shuchat, in which he called the use of the App "a stumbling block" and urged that it not be used.
The following is a response to Rabbi Shuchat:
After a very positive launch, we have received some very good points which we intend to address in this article. Namely, Rabbi Shuchat's response to our app.
First, it's important to remember that this app is intended only to help women who do not or cannot ask questions. For example, a woman who is traveling and has a question now has the ability to send her picture to her Rabbi. In the proper environment, she would bring her question to the Rav, but since she's travelling, she cannot. Tahor app enables her to keep this mitzvah even though she cannot access her Rav in person. Attempting to prevent women from using this app will unfortunately result in excluding these from keeping this Mitzvah
Next, many women are currently calling their rabbis and describing the color to them when they cannot come in person. This app is obviously a better option to enable these women to provide their Rav with the best description available. A very accurate photo.
Lastly, we hope this app will ultimately result in more people keeping Taharas Hamishpacha. We have come across so many women who do not ask questions because they are embarrassed or live too far away. As is evident from the huge amount of positive responses from these women, asking us to shut down this app effectively excludes these women from this mitzvah.
Now, regarding the specific points Rabbi Shuchat raised:
Rabbi Shuchat starts off his response to crownheights.info with "When a Rov get a Mar'eh, there are various things you look at."

First, this app was designed to assist those who DO NOT send their Mar'os to a Rav. The purpose is to include these very people in this Mitzvah. If they aren't sending their Mar'os to the Rav, the Rav cannot review it.
Rabbi Shuchat describes a litany of tests that the Rabbi uses to review the Mar'eh.

One thing Rabbi Shuchat doesn't mention is that in many instances, it's very easy to tell if the stain is pure or not. When the purity status of the Mar'os is easily discernable (such as when the stain is clear or slightly yellow) most, if not all, of the detailed review Rabbi Shuchat describes is not necessary.
Further, if the Mar'eh does require the detailed review, the responding rabbi will instruct the user to bring their cloth to a rabbi.
Next, Rabbi Shuchat shows a series of photos and states that in different lighting, the photos are slightly different.

We agree. Any time you introduce a different lighting to any color it will affect the color. This is an unavoidable fact of life. This has nothing to do with a camera. Different lighting will always affect color whether it's in real life or on a screen. However, Rabbi Shuchat did not follow the apps instructions which instructs the picture to be taken in sunlight.

Lastly, Rabbi Shuchat wonders how the color of the stain will be affected if the brightness on the Rabbi's phone is dimmed.

We instruct all our responding rabbis to make sure their screens are turned up to the brightest level. This ensures a more consistent and accurate picture.
Let's be clear. We at Tahor completely encourage all women to bring their bedikas to their Rav. However, we recognize the fact that many women do not do this. It is for these women that Tahor app was created. Our goal at Tahor is to make sure all these women can be included in this mitzvah.
Thank you,
The Tahor Team