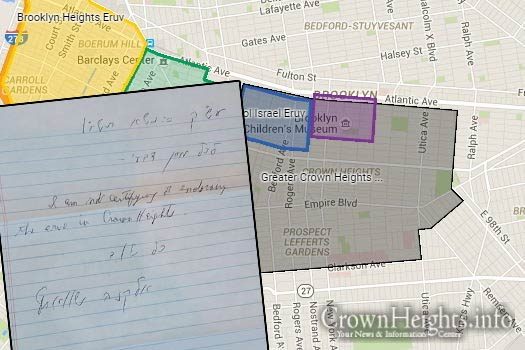 Rabbi Elkanah Schwartz, the Rov of Congregation Kol Israel, clarified his stance regarding the new Eruv dubbed "The Greater Crown Height Eruv" that was purportedly under his auspices.
Following our breaking story about the new Eruv, which encompasses most of Crown Heights, hundreds expressed their opinions regarding it. Many expressing strong opposition and others in support.
In a handwritten letter released a short while ago Rabbi Schwartz writes "I am not certifying or endorsing the Eruv in Crown Heights." This is in stark contrast to earlier reports that the Eruv is indeed under his auspices.
When reached by phone he explained to CrownHeights.info that the Eruv project was initiated by my Shuls board of trustees who sought to expand their existing Eruv. They asked him for his certification but since he does not know enough about Eiruvim he told them to hire someone that is well versed in the Halachos.
"They has suggested a particular Rabbi and after I researched his credentials I informed [the board of trustees] that he would be an acceptable choice for building the Eruv, but I personally do not certify it, I rely on his certification based on his expertise" he said.
Rabbi Schwartz elaborated and said that he was contacted by individual members of the Beis Din, including Rabbi Avrohom Osdoba and Rabbi Shlomo Segal, then by Rabbis Yacov Schwei and Yosef Braun who were seeking clarification. "I told them the same thing, that I do not certify the Eruv only the expert that built it."
An earlier letter circulating on WhatsApp, purportedly from Rabbi Schwartz, said that he withdrew his support from the eruv and that it would be removed. He staunchly denied writing this letter.
"Is the Eruv acceptable for use? That would be up to the individuals to seek guidance from their rabbis" he concluded.