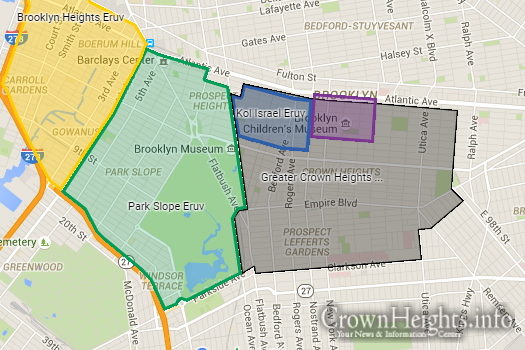 Crown Heights Eruv Is Up!
Despite opposition from local Halachic authorities, an Eruv has been erected around Crown Heights for the first time in history, enabling Jewish residents who choose to use it to carry and push strollers on Shabbos.
The boundaries of the Crown Heights Eruv roughly are:
North: Pacific Street
South: Clarkson Ave
East: Buffalo Ave
West: Washington Ave
For exact boundaries, please consult the Eruv map by clicking here.
The Eruv is under the auspices of Congregation Kol Israel of Prospect Heights and their Rav, Rabbi Elkanah Schwartz,who has established the nearby eiruvim of Prospect Heights and Brower Park.
The Eruv is a welcome relief for many of the thousands of Jewish families in the neighborhood, especially those with infants and toddlers, who could not leave their homes on Shabbos together as a family.
This monumental achievement is not without controversy though, as several community leaders and Halachic authorities – including the Crown Heights Beis Din – have come out against the initiative. The Rebbe's secretary, Rabbi Leibel Groner, published a scathing letter denouncing the Eruv and those who are behind it, and many have pledged not to use it.
Some members of the community who are in opposition to the Eruv have gone as far as releasing an anonymous 'Pashkvil' threatening to cut down the Eruv.
Sign up for weekly eruv updates by clicking here.