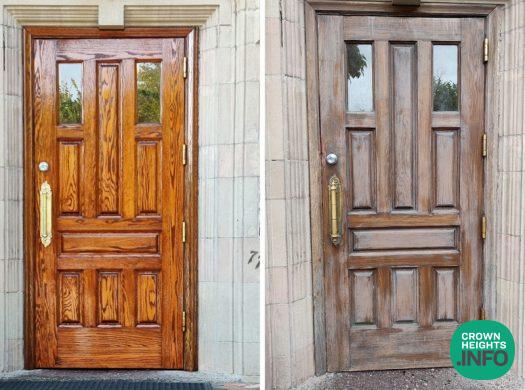 Before and After, 770 Door Takes On New Life After Restoration
by CrownHeights.info
The front door of 770 Eastern Parkway gained a new life this week as it was replaced on its hinges after a brief hiatus for refurbishment.
The wood, worn by hundreds of thousands of hands, had been getting progressively lighter and duller, losing its darker stain finish as the years progressed.
On Wednesday of last week, the door was removed under the auspices of the upstairs 770 caretaker Rabbi Chaim Boruch Halberstam and with the help of Rabbi Yossi Rabkin, temporarily replacing it as they took the aged door to a woodshop.
Last night the door returned, complete now with the deep glow of a new finish and ready to last another hundred years.