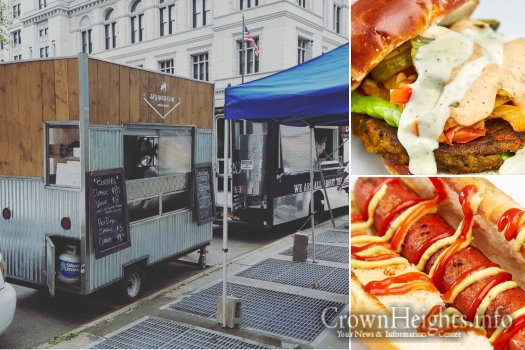 Today there are no Kosher options in the entire Downtown Brooklyn area. There are also no wholesome, gourmet food carts or trucks in the area – for Kosher eaters and non-Kosher eaters alike. By using natural, minimally processed beef and serving handcrafted Burgers prepared fresh daily, JJ's Holy Cow will shift consumer expectations of what a food cart can offer, as well as provide tens of thousands of Kosher consumers with great food.
The owners are Rabbi Eliyahu and Shaindy Raskin (nee Holtzberg). The Raskins run Chabad of Brooklyn Law School, and noticed that there were many Jewish students who did not have any kosher food. Combining a community service with a great opportunity for outreach, the Raskins put in motion a plan to provide a hot and delicious kosher meal for their students. Due to a large number of kosher consumers in the area, numerous restaurants have opened and subsequently closed over the past 27+ years. This is due to the steep overhead prices in Downtown Brooklyn. The cost per month to rent out a small restaurant space amounts to a few thousand dollars at best.
There was a void in the Kosher food market in Brooklyn Heights to feed:
Local Jewish and non-Jewish business people
Jews who are in the area for jury duty
The local Jewish community
Jewish Students (There are 5 local Universities)
Enter JJ's Holy Cow, whose offerings are: made of Vegetarian-fed, Clean, 100% meat; Handcrafted; The only Glatt Kosher food option in the entire Downtown Brooklyn; Healthy and delicious; Vegan Options; Full Menu offers Lunch, snack, and Dinner options; Serving Customers on a unique, individual basis.
The food is Glatt Kosher, under the supervision of Rabbi Aaron Raskin of Brooklyn Heights, Chasidishe [Chabad] Shchita.
Hours:
Summer: Monday- Thursday 11:30-4:00. Winter: Monday- Thursday 11:30-6:00.
Location:
Corner of Court and Schermerhorn Street, Brooklyn Heights, Brooklyn, NY 11201.
Media/contact:
917-704-4214. Jjsholycow.com, Email: jjsholycow@gmail.com, Facebook: JJ's Holy Cow, Instagram: jjsholycow, Twitter: @jjsholycow.