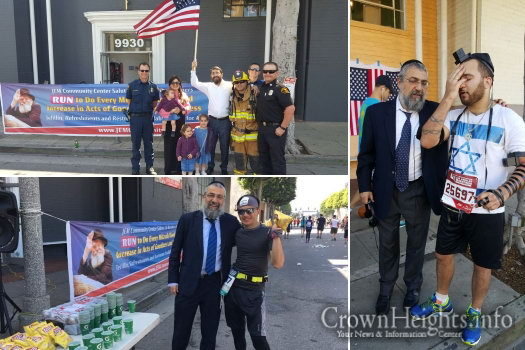 Participants of the LA Marathon found nourishment and support for both body and soul while racing past the JEM Community Center of Beverly Hills on route this Sunday.
The JEM Community Center, was ready for the mission of touching Neshamos on the run. Greeting the racers was a large banner with a smiling picture of the Rebbe encouraging all to "increase in acts of goodness and kindness, and RUN to do a mitzvah."
Cold drinks, food, and refreshments were also available to the appreciation of all present.
Rabbi Illulian and Bochurim Shluchim busily helped the crowds lay tefillin and exchanged in words of Torah and inspiration.
With more than 24,000 participants in the LA Marathon and the outpour of gratitude expressed, the Kiddush Hashem was of large proportions.
"In a world where hate is rampant and antisemitism is making the news too often, It is the hope of The JEM Community Center that our acts of goodness and kindness will encourage a ripple effect." shared Rabbi Illulian.
Judging by the revitalized faces of the racers and their families, it is safe to assume that it will.