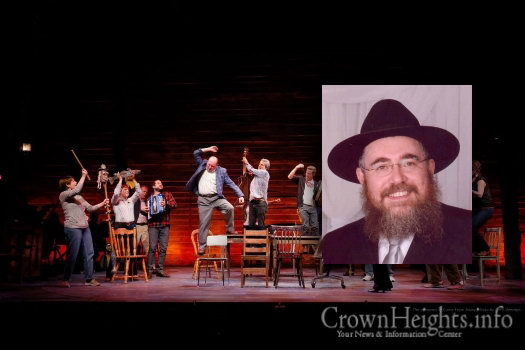 A scene from 'Come from Away.' Inset: Rabbi Leivi Sudak.
The kindness of a Chabad Rabbi from London, stranded in rural Newfoundland, Canada, when his plane was grounded on 9/11, are at the heart of a new Broadway play titled 'Come From Away.'
from the Jewish Week:
It won't surprise anyone to learn that the kind rabbi in the new Broadway musical "Come From Away" is based on an actual Chabad spiritual leader.
Some of the most beautiful scenes in the musical — which opened in previews on Broadway last week — feature a rabbi ministering to strangers he meets when he, along with about 7,000 others on 38 planes, is diverted to Gander, Newfoundland, after the Twin Towers were hit on Sept. 11, 2001. The play, by Canadian playwrights Irene Sankoff and David Hein, is composed of dozens of stories of kind gestures done by and for the "come from aways," as visitors to Newfoundland are called. The playwrights based the play on the hours of stories they heard when they traveled to Gander on the 10th anniversary of 9/11, including several about a Rabbi Sudak, though the three never connected.
In the play the rabbi (played by Geno Carr) wears a knitted kipa and modern clothing. But the actual rabbi the stories are based on is Rabbi Leivi Sudak, head of Chabad of Edgware, outside London, who would have been dressed in more traditional chasidic garb. On 9/11 the rabbi had taken a flight from London to New York to visit the grave of the Lubavitcher Rebbe, Rabbi Menachem Mendel Schneerson, just ahead of Rosh HaShanah, which would fall the following week. Instead of returning to London that night as planned, Rabbi Sudak found himself in Gander.