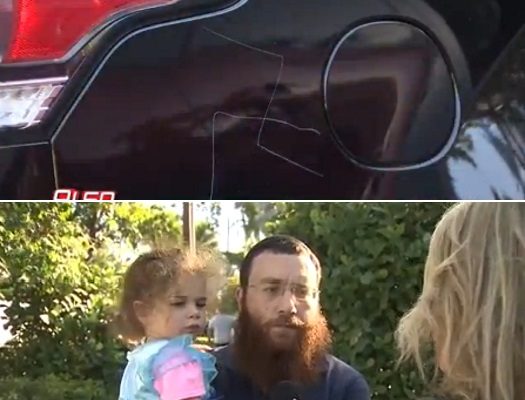 Police are investigating after swastikas were found keyed into multiple cars in Miami Beach. Rabbi Mendy Levi, a Chabad Shliach who lives next to one of the home's where a car was vandalized, told Channel 7 News that this and other recent anti-Semitic acts around the country worry him.
This is the second such incident to occur in the Miami area this past weekend: on Friday, worshipers at a Chabad synagogue in Sunny Isles Beach discovered a swastika painted on the center's door.
from Channel 7 News:
"It's a predominantly Jewish area over here," Rabbi Levi said. "And just the current crisis that we're in now, the climate that is taking place around America, it's very disturbing. So we want people to keep vigilant, at the same time we want people to spread the message of peace and light and not hate."
Levi said the swastikas are painful reminders of the Holocaust.
"It's very hurtful the whole concept of the swastika goes back to the times of the Holocaust and it brings up horrific memories of genocide and hatred toward a minority," he said.