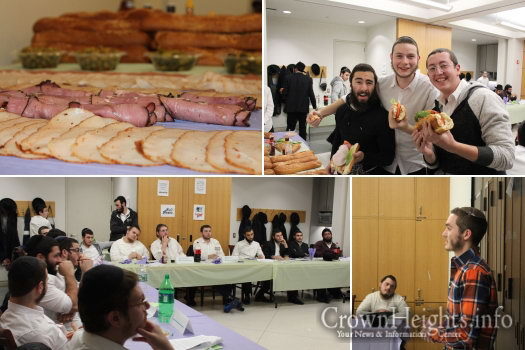 Several local Bochurim have given up the one hour a week of what they have for themselves and are volunteering for the Friendship Circle. The Friendship Circle's Boy's division – Boys over 10 and young adults with special needs, will have Bochurim from local Yeshivos visit their homes, learn with them at Yeshiva and a host of programs and activities planned for the coming year.
The Bochurim were treated to a subway-style dinner and heard from Rabbi Mendel Nemes, himself very involved with the special-needs community. Rabbi Nemes impressed upon the volunteers the importance of the task they have taken upon themselves. He related a story of the Rebbe, of how he cancelled a farbrengen in order for bochurim to attend a Bar Mitzvah celebration of a boy with special needs. The story shows how dear the Rebbe treasures each one of his special children.
Binyomin Lerner then shared his experience as a volunteer and impressed the guidelines of the Friends@Home program, relaying how vital their friendship and visits are.
Mendel Weiss, Coordinator of the Boys division, emphasized the importance of dedication and consistency, explaining that what a FC volunteer learns and gains during this experience, is priceless and will last a lifetime.
The evening concluded with Rabbi Berel Majesky thanking the volunteers for taking upon themselves this unique Shlichus.
For more information about any of FC's programs, or to help them continue their vital work, please contact: Phone – 718.907.8852, Email – Hello@FCBrooklyn.com.
The Friendship Circle of Brooklyn has recently launched a raffle campaign. Enter for a chance to win $10K – with only 500 tickets being sold! Click here to join the raffle.