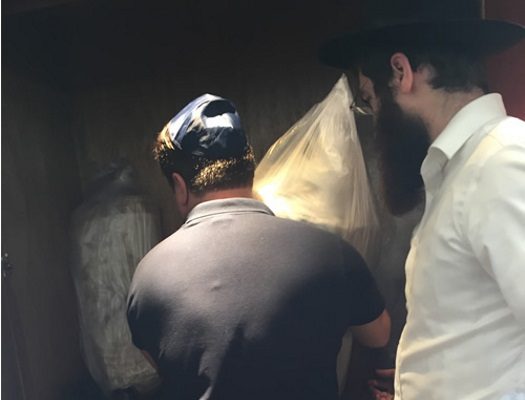 Torah scrolls were wrapped before transfer off the barrier island of Satellite Beach, which is under mandatory evacuation, to a vault on higher ground.
From VIN News:
As South Central Florida braces for a brutal direct hit from Hurricane Matthew, Chabad centers from the Sunshine State through the Carolinas are hard at work securing Sifrei Torah and preparing for possible hordes of evacuees.
In East Boca Raton, Rabbi Ruvi New said that part of his community is under mandatory evacuation orders, reported Chabad.org.  Many have left the area while others are protecting their homes.
"I was just on the phone with Home Depot to see if they have any more plywood, but they don't," said Rabbi New.
Extra bottled water left over from Rosh Hashana was distributed to congregants who were unable to get water in stores and Rabbi New said that his own family is well stocked with water, flashlights, batteries and non-perishable foods.
Noting that Matthew, a Category 4 storm with sustained winds of up to 140 miles per hour, will be hitting during Aseres Yemei Teshuva, Rabbi New suggested that people use any down time appropriately.  With Florida Power and Light going by the acronym FP&L, Rabbi New said that people could use the time to "Farbreng, Pray and Learn."
Rabbi Zvi Konikov of Chabad of Space and Treasure Coasts in Satellite Beach, Florida, has been packing up his sifrei Torah and other seforim and getting them out of the evacuation zone.  Outdoor signs and other portable items were removed from the Satellite Beach Chabad House, both to spare them from Matthew and to prevent them from causing possible damage.
Florida Gov. Scott: 10-foot storm surge expected in North Florida