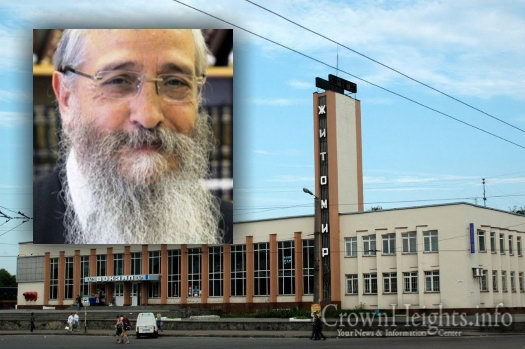 The Zhitomir train station, near which the attack occurred. Inset: Rabbi M.M. Deutsch.
Rabbi Mendel Deutsch, a prominent Lubavitcher Chossid and community activist from Jerusalem, was savagely beaten nearly to death by a mob of Ukrainian anti-Semites in the city of Zhitomir this morning.
Preliminary reports indicate that the victim was found only several hours after the incident, barely clinging to life and suffering major blood-loss, near the main train station in the city center.
The victim is reportedly in critical condition, suffering from multiple fractures to his skull and broken teeth.
Zhitomir is home to the headquarters for Chabad's activities in western Ukraine, a region with a long history of vicious anti-Semitism – including eager collaboration with the Nazis YMS.
This is a breaking story. It will be updated with more information as it becomes available.
Please say Tehillim for Menachem Mendel Mordechai ben Miriam for a speedy and full recovery.