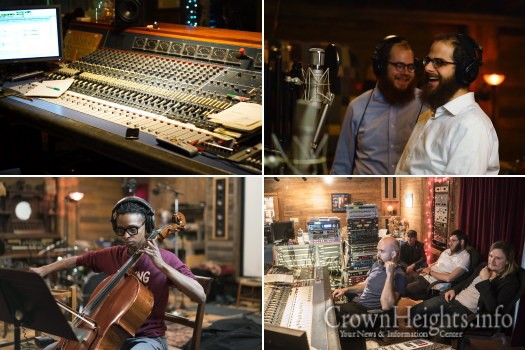 In honor of Yud Alef Nissan, the newly formed Niggun Society released its debut single, "Niggun Rostov."
The Niggun Society, founded by Shlomie Rabin, was created in an effort to present Chabad Niggunim authentically. In a desire to contribute to the community, Rabin found his passion in creating niggunim that are genuine and well-rounded. He teamed up with Chanan Rose to cultivate a sound that balances beautiful vocals with lush instrumentals, while retaining a commitment to accuracy.
The Society began by recording the Niggun Rostov just over two weeks ago, which is available as a free download starting today. The single will be followed up by a full-length album, featuring nine Niggunim. Alongside the seven niggunim of the Rebbeim, the album will also include the Shalosh Tenuos and the Rebbe's father, Reb Levik's Hakafos Niggun.
"I think we got something really special in this single, and I look forward to going back into the studio to do the album," said Chanan Rose, who produced the track and orchestrated the arrangement, musicians, and studio.
The debut of the single also marks the launch of the Niggun Society's crowdfunding campaign. The Niggunim are available for dedication by track, and all donors of $150 or more will receive a vinyl record of the niggunim from a limited-edition run.
"Through this recording process, Niggunim have become a support for me in my spiritual and emotional growth. It's a newfound access for me and I am excited to share this discovery," said Rabin, who is the lead vocalist for the Niggun Society.
"Very nicely done," was the reaction of Eli Lipsker, past consultant for the Nichoach Society and senior Chabad music expert. He heard it along with other prominent Chassidic musicians in advance of the official release.
Through crowdfunding as well as larger donations, the group plans to release the completed album in time for the upcoming Tishrei season.
To listen and download the free audio link go to niggunsociety.com. Join and donate with this Generosity page https://igg.me/at/LmkeNsuOeus.