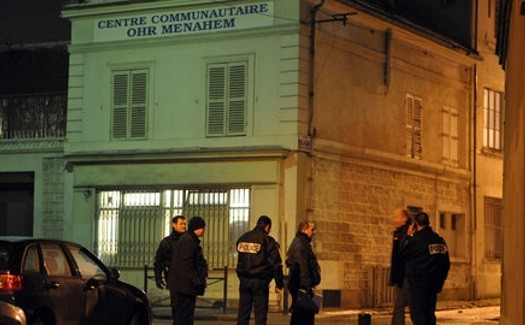 The Centre Communautaire Ohr Menahem in Saint-Denis, a suburb of Paris, in the aftermath of a firebombing in 2009.
After three firebombs hit the synagogue of Saint-Denis, a poor and heavily Muslim suburb of Paris, municipal authorities advised the local Jewish community to lower its profile. The local Chabad Shluchim have no intention of complying.
From The Times of Israel:
Like dozens of attacks on French synagogues since 2000, the January 2009 incident at the Chabad House of Saint-Denis, which did not result in any injuries, was believed to have been Islamist extremists' retaliation for Israel's actions – that year against Hamas in Gaza.
"We were told by the mayor from the Communist Party that it would be prudent if we tone down our activities at least until things calm down in the Middle East," recalled Yisroel Belinow, who runs the Chabad House here with his wife, Rivky, and his brother, Mendel.
"We had absolutely no intention of complying," he said.
Instead of laying low, the Belinows that year produced Saint-Denis' first public community Passover seder, starting an annual tradition. Members of this besieged congregation say it succeeded because it reflects their unity in the face of rising anti-Semitic violence.