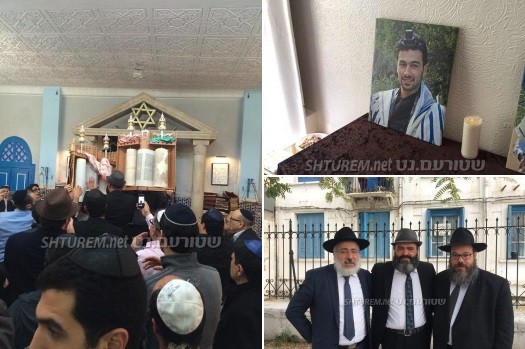 A year after the terror attack on the Hyper Cacher supermarket in Paris, which resulted in the murder of Yoav Hatab, HYD, a graduate of the Chabad Boys' School in Tunisia, a Sefer Torah has been dedicated in his memory, which was entered into a synagogue in his hometown of Djerba.
Hundreds of local Jews, rabbis and Shluchim from all over Europe participated in the joyous and historic event. The Sefer Torah was paraded joyously and proudly through the streets of the Arab nation.
The final Hakafah took place inside the Oholei Yosef Yitzchok-Lubavitch Boys' School, where Yoav studied as a child – which is located on "Palestine Street" – and then it was brought to the Djerba synagogue.
Photos courtesy of Shturem.net