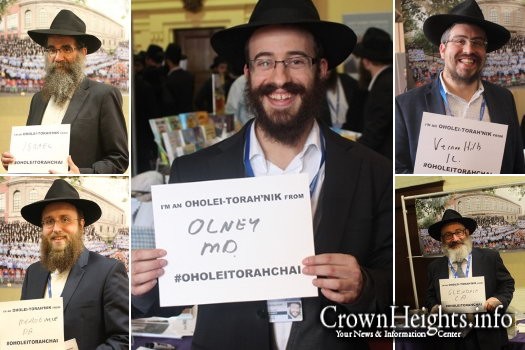 Oholei Torah, whose alumni make up a majority of the Shluchim, held a "meet and greet" stand during the days of the Kinus.
Alumni from around the world proudly saluted their moisad, holding signs bearing the city and state of their shlichus. HaTomim Yossi Baumgarten of the Alumni Affairs Office greeted hundreds of Alumni.
Hamafitz Judaica proudly sponsored a $500 gift certificate for the Alumni who visited the table.
The raffle was held in a third grade classroom of the school, with the young talmidim wishing the Shluchim well. Rabbi Yossi Cousin, a veteran Melamed, announced the winner: Rabbi Bentzy Stolik of Olney, Maryland. Rabbi Stolik, who learned his whole life in Oholei Torah, graduated in 2006.
Rabbi Joseph Rosenfeld, Executive Director, said "we are so proud to see the accomplishments of our talmidim, in all corners of the world."