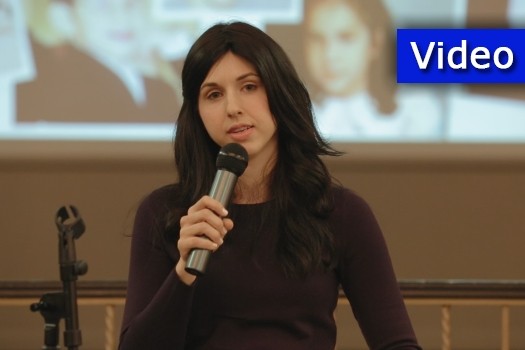 Abuse Survivor Breaks Her Silence
After suffering in silence for almost 10 years, a young Los Angeles mother recounted to a large crowd about the three long years of abuse that she endured from the age of 14 – at the hands of a well-loved rabbi and trusted family friend.
350 orthodox Jews filled the main sanctuary of Congregation Shaarei Tefila on Beverly Boulevard this Sunday evening for a night of awareness and education on the difficult subject of child sexual abuse (CSA), sponsored by Jewish Community Watch. The highly charged event served as an opportunity to publicly support victims and educate the public about the reality of CSA and the damage it leaves behind. Survivors, Rabbis and Professionals spoke about the dangers of CSA and the steps needed to be taken to combat it.
Sima Yarmush, an LA resident in her late 20s and daughter of a prominent Rabbi, told the audience about being abused for three years by an Assistant Rabbi who worked for her parents. The abuse, which started when Sima was only 14 and continued until 17, was deeply traumatizing and left her with anxiety, panic, and depression, which she suffered silently with for two more years.
When Sima revealed the abuse at age 19, a Rabbinic panel of four Rabbis instructed her not to talk about the abuse and quietly removed that Rabbi from his position at her parent's synagogue. Their solution was to move him to a nearby city where he continued to serve as a Jewish community leader.
Fearful that this Rabbi would abuse others, Sima's parents took a brave stance and made it known that he had been removed because of allegations of abuse. Sima told the crowd that her parents faced severe backlash from the relatives and supporters of the Rabbi and that "The negative reactions from the rabbis that I approached and from the people in my community was, if you can believe this, more painful than the abuse itself."
JCW recently exposed this Rabbi on its Wall of Shame.
Eli Nash, a successful Miami businessman who has been a staunch advocate for JCW since the organization stepped in to help him confront his own abuser, summed up the attitude and mission of JCW by saying "Our communities have focused on sending the abuser to therapy; JCW focuses on sending the victims to therapy."
The event was emceed by Fox News Reporter Rosh Lowe, who warned that "as long as silence continuous, there will be more tragedies". Professor and Deputy District Attorney Benny Forer refuted the allegation that anybody can accuse another of abuse, have them arrested, and ruin their lives. He explained the number of steps it takes to actually arrest and prosecute and individual and the extreme unlikelihood of someone being arrested on false charges.
Rabbi Elchonon Tauber, a respected Rabbinical judge from Los Angeles told the crowd that Jewish law not only allows you to report abuse to the police, but also insists that someone who knows of abuse and doesn't report it is in violation of the Halachic (Jewish law) prohibition of Shfichas Damim (murder).
Meyer Seewald, Founder and CEO of Jewish Community Watch, began by speaking about the organization's purpose, "As our mission statement reads, we Educate, Protect and Heal. Our goal is to end abuse, we are in business to be out of business."  He expanded upon the commitment that JCW has to those it serves. "Day in and day out, victims of CSA and their families come to JCW for help, and we do everything and anything we can." Seewald continued with a message to victims of abuse, "You are not alone, I promise you, reach out for help. We will believe you and we will trust you. Don't be afraid!"
Warning: The video below contains explicit material and may not be suitable for children. View at your own discretion.