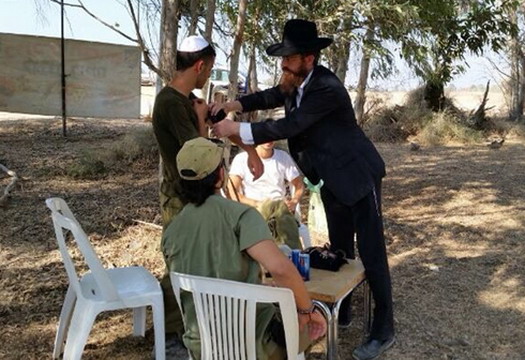 Moments before they were killed by a mortar, Midan Biton and Niran Cohen put on Tefilin.
They were three friends, fighters in the IDF's armored brigade, who served together for months, waiting for their turn to go into Gaza and fight the terrorists. But at that moment the worst happened: a mortar shell fired by the enemy exploded nearby and killed all three, along with another soldier who was nearby.
Minutes before their death on the 28th of July, two of the three were captured in a photo putting on Tefilin with a Lubavitcher Chosid. Midan Biton and Niran Cohen were killed in the attack, and their friend Eren Porat was critically injured.
The photograph was taken by a Lubavitcher who was there with a group of others to do Mivtzoim and put on Tefilin with Soldiers who wished to do so. Porat even called his mother and excitedly told her that he had put on Tefilin for the first time in two years, and just then was when the mortar shell exploded.
Porat, who suffered serious injuries to his leg and was lying on the ground, saw his friends lying nearby without moving and never imagined that they were dead. He was evacuated to the Shiba hospital in Tel Hashomer, and minutes before going into surgery he was told of his friends' fate. "I have never seen my son like this in my life, he cried heart-wrenching cries, and he could not accept that they were killed. Midan was his best friend," his mother Yael said.
Following the surgery, Porat was transferred to the orthopedic unit for recovery and his current condition is listed as moderate. From his hospital bed he is having a hard time understanding how he survived when the mortar landed just 3 meters away from him. "I do not know how it is that I am alive, everything that was around us was completely destroyed; I do not know how I was not killed as well," he had told his mother.
Chabad representatives came to visit the Porat family in the hospital and gave them a framed copy of the photograph. "It was very emotional to see it," Yael said. Meanwhile, the mother of Niran Cohen called Eren and asked to hear every detail of the incident which claimed the life of her son. "It was a very difficult phone call" Yael said, "she wanted to hear everything."
Yael expressed relief that her son survived the attack, but at the same time criticized the army. In her words "we are happy and grateful to G-d for this miracle, but on the same measure, we are feeling the pain of the soldiers who lost their lives, the friends of my son."
The family members of Porat visited the Cohen family in Tiberias where they were sitting Shiva. Mor, the sister of Niran Cohen, related that she spoke with Eren. "He was very emotional when he spoke with us and we still plan on visiting him [in the hospital], the [Lubavitchers] brought us the photo."
Also the family members of Midan Biton received a copy of the photo. Menachem, Midan's father, said "I am a little bigger believer then my wife, Rabbis came in and told me my son is a Tzaddik. The picture tipped the scales, I am from the only ones who have a photo just minutes before my son's death. I cry in the nights both with and without the photo. This is our land and there is nothing to do."
Two other soldiers were killed in the incident: Adi Briga and Eliav Kachlon.