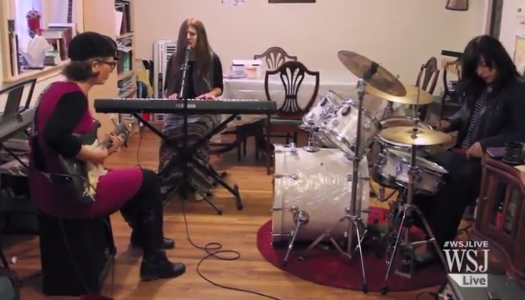 'Bulletproof Stockings' is a Chasidic all-female alt-rock band led by Dalia Shusterman and Perl Wolfe of Crown Heights. In a profile published yesterday in the Wall Street Journal, the band members, who perform to women-only audiences, said they consider themselves alternative rockers who are 'Chasidic in musical flavor.'
From the Wall Street Journal:
On Thursday, the Lower East Side rock venue Arlene's Grocery closes its doors—to men.
Its act that night, Bulletproof Stockings, is a Hasidic, all-female band, and while its members follow the rules of Orthodox Judaism—covering their hair, knees and elbows, and only performing for women—it aims to rock, and fill, the room.
"We were hesitant, because of their limited experience in the NYC live scene, and the fact that we would have to turn men away from the band room during their set," said Julia Darling, Arlene's Grocery's general manager. "However, the band literally hit the pavement to get signatures from women who vowed to come to the show if we booked them. They called me and said 'We can guarantee a full house.' "
The two lead members of Bulletproof Stockings (a reference to the opaque hosiery that some Hasidic women wear) are drummer Dalia Shusterman, originally from Maryland, and vocalist/keyboardist Perl Wolfe, from Chicago. They left their traditional homes as teenagers and experimented in the secular world before rediscovering their spiritual roots.
Click here to continue reading at the Wall Street Journal.
A video was produced by the WSJ to accompany the above article, which features women singing, and thus unsuitable for the viewing of men and boys. Click here to view it at your own discretion.