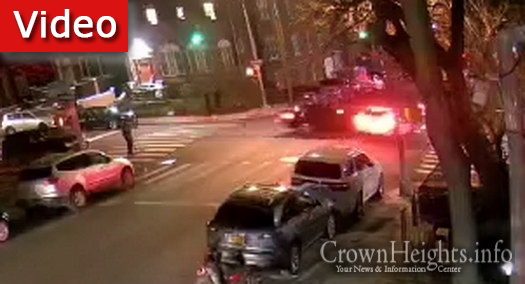 by CrownHeights.info
Monday night saw another bad car crash in Crown Heights, continuing a recent trend in car wrecks in the area.
The crash took place in the intersection of Brooklyn Ave and Crown Street, a location fraught with car crashes, at approximately 10:26pm Monday night.
Surveillance footage from the crash shows the exact moments as a white BMW sedan drove down Brooklyn Ave with the right of way, and a black Mercedes blew the red light. The two cars collided, sending the BMW nose-first into a light pole.
According to a witness, the two drivers knew each other and were having a civil conversation before the police arrived. The pair took some stuff from one of the car's trunks and pulled the plates off of one of the cars before one of the two left the scene.
There were no reported injuries in the crash.
Monday night's crash follows one on Sunday where a group of teens driving recklessly caused a three-car crash on Kingston Ave, and another Sunday night where a group of drunk females crashed their car into a Jewish-owned home.