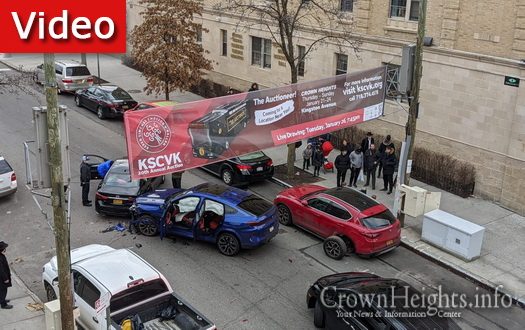 by CrownHeights.info
A crew of five teenagers driving recklessly on Kingston Ave wrecked a rental car causing a three car pileup.
The teenagers had been spotted driving dangerously around Crown Heights earlier Sunday in the blue BMW before they made a failed attempt at 3:30pm to speed around traffic on Kingston Ave.
The BMW initially struck the front end of a black minivan before swiping a red car and striking a black sedan, pushing it forward into a white van. The wreck left the black minivan damaged, the rear wheel ripped from the red car, and a severely damaged black sedan.
Video from the incident shows as five African American teenagers bailed from the vehicle immediately after the crash, running up Kingston Ave and away from the scene.
There were no serious injuries reported in the crash, and police are investigating the incident.