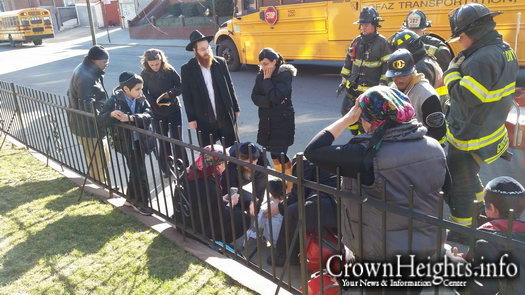 An impatient driver ignored the flashing red lights of a school bus and ran down a 7-year-old boy in front of the eyes of horrified parents and terrified children.
The incident occurred at around 4:30pm at the intersection of Carroll Street and Schenectady Avenue. A Jofaz Transportation yellow bus ferrying children home from Oholei Torah was dropping them off at its last stop.
With its two stop signs out and its red lights flashing a number of children got off the bus and safely crossed the street. But one driver could not be bothered to wait and instead ignored the flashing lights and sped past the bus and ran down a 7-year-old boy right before the eyes of waiting parents and other children.
A Shomrim volunteer who was at the scene immediately called Hazalah and 911. The child, who was visibly shaken, but did not appear to be seriously hurt was nevertheless checked out by emergency medical personal, than taken to a nearby hospital for further checkups.
Meanwhile some of the kids who witnessed the crash went into shock and Hatzalah volunteers went to speak to them at their home.
Police officers filled out a collision report, and it is not clear if the driver received any summonses.
At the time of publication CrownHeights.info has learned that the boy has already returned home and doctors have confirmed that he did not sustain any serious injures, 'a true miracle' one of them noted.