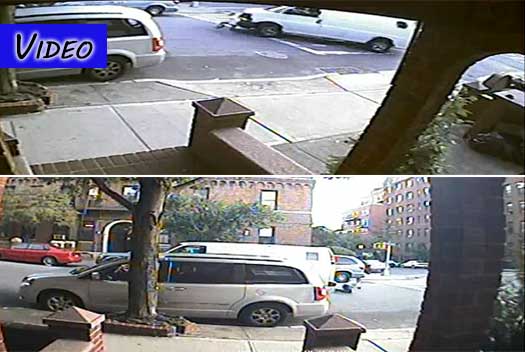 Before and After: Video footage reveals an open miracle.
MIRACLE: Boy, 8, Run Over By Van; Walks Away
Surveillance video obtained exclusively by CrownHeights.info reveals the open miracle that occurred yesterday, when an 8-year-old boy was run over by a van and walked away without any serious injuries.
The incident occurred yesterday, Sunday, on the corner of Albany Avenue and Montgomery Street. After viewing the video footage, which was captured by a neighbor's surveillance system, it became clear just how lucky that young boy is to be alive.
In the video you can see the boy ride his scooter down Albany Avenue and come to a stop at the intersection, where he waits for the light. When it turns green, the boy proceeds across the street, while a white van makes a left turn from Albany onto Montgomery Street.
The boy was hit by the front of the van, which only stopped when a neighbor shouted at the driver, and proceeded to completely roll over the boy – miraculously missing him with the tires. The frightened boy then crawls out from under the rear of the van and runs to the sidewalk.