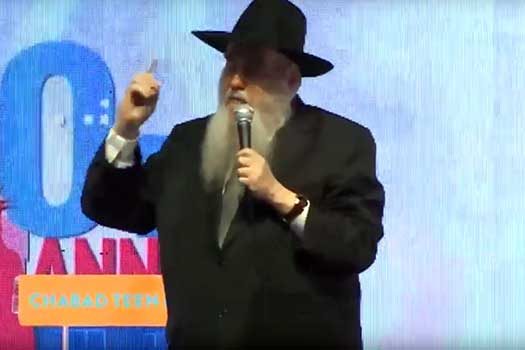 Anyone who works with teens knows how difficult it is to capture their attention. But at the 10th Annual CTeen Shabbaton Banquet earlier this year, 2,500 teens sat enthralled by this moving address.
Drawing upon the Shabbaton theme, Transcend the Tide, Rabbi Moshe Kotlarsky related how we all face various tides, unexpected challenges, in life. Instead of allowing oneself to be swept into or away by the tide, one can choose to rise above it, and then ride it to the greatest heights.
"As you prepare to return to your hometowns, remember that the Code of Jewish Law begins with four words: Al Yevosh Mpnei Hamaligim — Pay no attention to the haters. You might be the only Jew in your class or the only Jew in your whole school. Stay strong and remember who you are!
"G-d has sent you a lifeline called Torah and Mitzvot. A life-line called CTeen. In college, Chabad on Campus. After college, Chabad Young Professionals. You needn't ever feel alone in your journey through life to make this world a better place in line with the vision of the Almighty Creator.
"Mr. George Rohr once mentioned to the Rebbe, "I arrange a holiday prayer service for people with no Jewish background." The Rebbe responded, "No background?! Every Jew has the most beautiful Jewish background. Each and every one of them is a child of Sarah, Rivkah, Rochel and Leah — the most beautiful heritage!
"G-d willing in the future you will all build Jewish homes. Do we have to remain at 18-20 million Jews in the world? 20-30 years from now there can be ¼ billion Jews — it's up to you to build and show the strength and vitality of the Jewish people!
"I was in berlin on the day of V-50. Six million of the best and brightest were taken from us. The leader of German Jewry told me, "Lest we forget…" I turned to him and said, "If we don't educate the next generation, the Six Million snatched from us will G-d forbid be lost.
"And so I say to each and every one of you courageous young men and women of CTeen: It is up to you, and it is in your power, to go back home and be a light unto all your friends, to ignite the Jewish spark within them. Set their Jewish pride aflame. And invite them to join in the mission of CTeen to light up the world, one person, one school, one community at a time.
"For you are not just the leaders of today. You are the leaders of yesterday and today, and tomorrow."