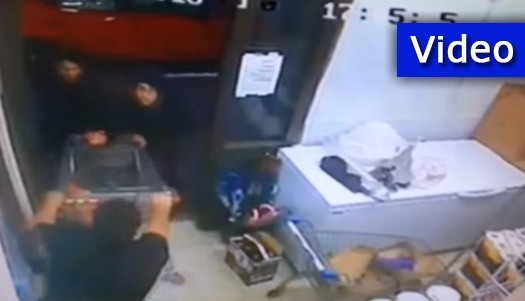 Two Palestinian terrorists stabbed and seriously wounded two Israelis in a supermarket in the settlement of Beit Horon on Monday night, before they a security guard shot and killed them. Police officers who arrived at the scene found two pipe bombs, which were neutralized by police sappers.
From the Jerusalem Post:
Footage from the scene shows the two young Palestinian men running into a grocery store in the settlement, which is located off of Route 443.
They stabbed a 23-year old woman, leaving her critically wounded. She lost consciousness at the scene. Doctors at Hadassah University Medical Center in Jerusalem's Mount Scopus neighborhood are now fighting to keep her alive.
Recorded security footage shows a man chasing the attackers out of the store by continually pushing a large wire grocery cart at them.
After they fled the store, the attackers stabbed and moderately wounded a 58-year old woman in the upper part of her body. She is now being treated in the capital's Shaare Zedek Medical Center.