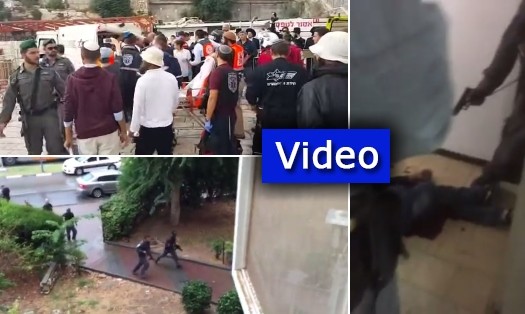 A wave of terror has hit Israel today, with four attacks having occurred just by midday – leaving many fearing that a third Palestinian uprising – or 'Intifada' – has begun. In one incident, a quick-thinking Chabad boy saved an untold number of civilian lives by shutting an armed terrorist out of his apartment building.
The day of terror began at 8:40am in Tekoa, where about a dozen Palestinian men with rocks and crowbars attacked a vehicle driven by an Israeli woman. B"h she managed to narrowly escape the planned lynching.
At 10:46am a female terrorist attacked an Israeli man near Shaar Shchem in Jerusalem's old city, stabbing him in the head and neck. The man was moderately injured, and the terrorist was shot and neutralized.
At 1:15pm a terrorist stabbed and Israeli soldier in Kiryat Gat and stole his rifle. The soldier was moderately injured. A miracle occurred when the terrorist headed with the gun towards a residential apartment building – a young Chabad boy realized what was happening and bolted all the doors shut, foiling the terrorist's undoubtedly gruesome plans. The terrorist holed himself up at the building's entrance until he was neutralized by police.
At 1:50pm hundreds of Palestinians mobbed an IDF checkpoint in the West Bank. The soldiers returned fire, killing one Palestinian.