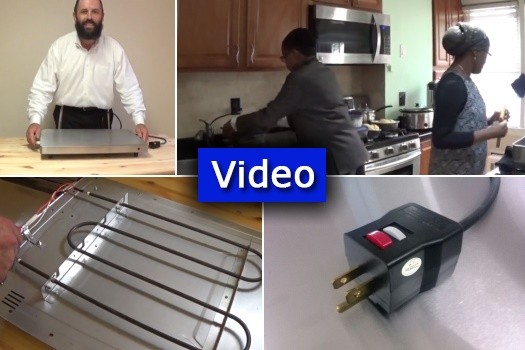 Ben-Tzion Davis is an Orthodox-Jewish Electronic Engineering Technician living in New York. After learning of the tragic story of the Sassoon family of Flatbush, in which a Shabbos hotplate caused a fire that lead to the death of seven children r"l, he was determined to reinvent the appliance to be as safe as possible, so as to prevent such tragedies from ever reoccurring.
Ben-Tzion relates: "When I was going to college, I rented a basement apartment below a nice Rabbi and Rebbetzin. One Erev Shabbos afternoon the Rebbetzin asked if I could repair her Shabbos blech that had stopped working. I opened the blech and the inside was horrible. The heating element was just a thin live electric wire coil surrounded by ceramic insulators. The blech had been dropped on the counter like all blechs in time will, and one of the ceramic insulators had broken. This allowed the live wire coil to arc weld itself to the metal housing of the blech. This is an extreme fire and safety hazard.
"I have found by doing research that most all of the best selling Shabbos food warming plates are manufactured this way. Even the ones that advertise as Shabbos and Engineered in Israel. They have no internal components restricting the flow of electric current to the live electric wire coil. The electricity runs straight from your wall outlet into the coil and back again. Causing a large amperage draw from your household outlet. The internal wires begin to break down from the repetitive heating and cooling. They are not designed to be used like Jewish observance requires, 24 and sometimes 72 hours on a weekly basis all year long.
"Recently, due to tragedies in the Orthodox Jewish world, I was asked by several close friends, what my professional opinion was, as far as a safe blech to purchase. Some are better than others but I could not think of one that I would safely recommend. I sincerely do not recommend and I even discourage the most available best-selling unit that you find in most all Jewish homes."
Ben-Tzion went to work right away designing a food warming plate with Orthodox Jewish Observance in mind. "We do not use food warming plates like your common consumer; we need an affordable blech, designed for repetitive continual long term use," he explained.
The result of his efforts is the Shabbos Safe Hotplate. His prototype uses a common tubular style heating element found in any electric oven for long service life, safety, dependability and affordability. Ben-Tzion gave it longer legs to raise the heat from the counter top, and installed thermal circuitry to restrict the flow of electricity to a minimum and cut the electricity if there was any abnormal change in heat. Finally, Ben-Tzion used only industrial grade wiring and a three prong circuit breaker to avoid any accidents.
He then e-mailed over 25 different factories overseas trying to find one that could manufacture his design to his quality standards, with all his safety features, at an affordable price. It was impossible, as the cost of testing, certification, fabrication and various costs kept it in a price range out of reach of your common consumer. Finally, the 25th factory he reached out to had a stainless steel unit already in manufacture, which – with the addition of his safety features – would meet his specifications exactly. His dream was a reality; they were able to send him a prototype within a month.
Ben-Tzion learned that in order to cover the ETL safety certification, and the minimum factory order, he would need to pre-sell 1,000 units before manufacture. He wrote a blog advertising his design and his plans to launch a Kickstarter, and the response from the Jewish community was unbelievable. Over 2,458 page views in the first few weeks. This convinced him that it was time to act and bring his design to market.
He then launched the Kickstarter campaign, seeking to raise $60,000 towards bringing the final product to market, with incentives for each donor, such as the first manufactured units and updates to the project's progress – depending on the amount contributed.
For more information, or to participate in the campaign, visit https://www.kickstarter.com/projects/900922798/shabbos-safe-hotplate.