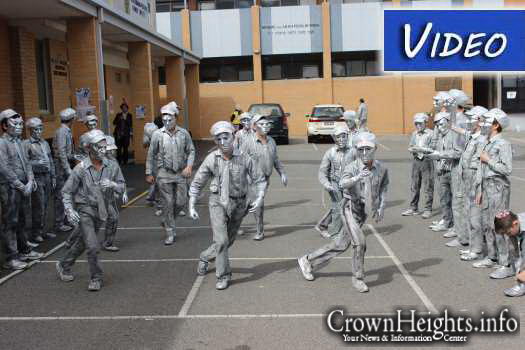 This Purim, the eighth grade class of Yeshiva College of Melbourne decided that they wanted to do something legendary – something that will bring the joy of Purim to the entire city of Melbourne.
The class' Shliach, Levi Druin, had an idea: the entire class would dress up together and have something fun and productive organized for the day. After many days of thinking, the 'class committee' struck gold: They would all dress up as living statues, and the money they would collect would go to Tzedaka.
After another 'class committee' meeting, it was decided to include a dance, which would attract more attention from passers-by. Not only that, but they would travel around Melbourne in style: they would drive around in a massive party bus.
The class was divided up into four groups (costume, dance, route, and fundraising), and everyone got to work arranging their part. The dance committee chose the Purim song by the Maccabeats, because not only does it tell the entire story of Purim, it is also a great song to dance to. After weeks of practice, in their own free time, the class had learned their dance and was ready to go. Naturally, numerous pairs of Tefilin were brought to wrap up everyone who stopped to watch their performance.
After doing a couple of performances in school, the students left Yeshiva and boarded the party bus which was waiting for them.
Arriving at Chadstone Mall, they performed for an appreciative crowd of shoppers.
Walking through the mall holding signs saying "Happy Purim," they attracted a lot of positive attention –which led two men to put on Teffilin with them.
The students then hopped back on the party bus and headed to the Emmy Monash Nursing Home, where they delighted over a 100 residents with their amazing show.
The students then headed out to Melbourne's Fed Square, where they performed for a crowd of over 400 people!
While spreading Purim joy and doing Mivtzoim, the boys had a great time themselves.
A special thank you to goes to Shliach to the Yeshiva Mendel Blesofsky, who came along with the students and helped make the entire day a success. A special thank you also goes to Chabad Youth, which helped sponsor the event.