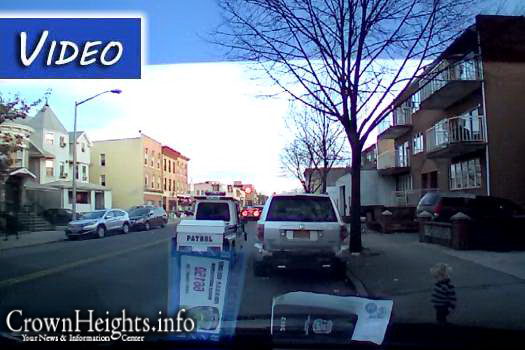 In a shocking video obtained exclusively by CrownHeights.info, a young Borough Park boy can be seen wandering into a busy street, with no adult in sight.
The footage was captured on the dash-cam of a parked vehicle, belonging to a contractor from Williamsburg, who was at the scene filling out some paperwork near a construction site.
With the mercy of heaven, the contractor spotted the child in the nick of time. He grabbed the boy just as he made a lunge for the busy two-way street, barely a second before a large school bus rumbles past.
"When I saw that school bus roll by, I realized that I had just saved this boy from certain death," the vigilant hero told CrownHeights.info. "For an hour afterwards I couldn't do any work; I just sat there stunned."
Amazingly, the man could not explain what brought him to suddenly look up from his busy paperwork and notice the child.
The child was promptly returned to his relieved mother, who was surprised to find that the door to her home had been left open, and thanked the man profusely for saving her child's life.
The young girl seen running across the street at the end of the video is a neighbor and friend of the child's family, who watched the incident unfold but was helplessly trapped on the opposite side of the busy two-way traffic and was unable to cross and stop the child.