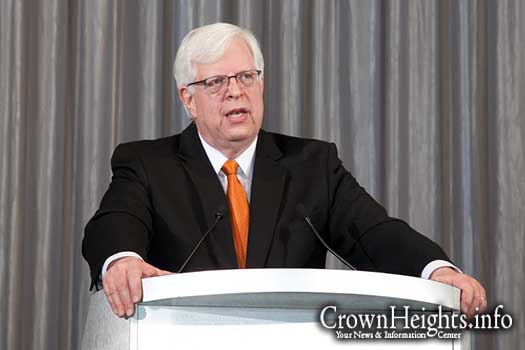 When Dennis Prager attended yeshiva as a child, he insisted on knowing the WHY when all he was taught was the HOW of Yiddishkeit. He introduces Mayanot Yeshiva in Israel as a place that tells WHY in addition to HOW.
Dennis relates some of the things that he has learned since his yeshiva days that insure the continuity of the Jewish people.
Prager relates his experience in 4th grade, when his Rebbe said it was time to daven Minchah and the young Dennis Prager stated that he is not in the mood. The European born Rebbe considered his feelings and responded, "so what?" These 2 words were pivotal in his future attitudes; behavior matters more than feeling.
How do you account for the preoccupation of the world with Israel a land the size of El Salvador? The Jews are the canary in the mine; they play a transcendent role in history. Evil concentrates on the Jews first, but non-Jews are foolish if they dismiss what happens to the Jews as not their problem.
On the second day G-d created separation. Prager delineates the following aspects which are all being confused today: The dilemma of Good vs. Evil leads to moral relativism; The disruption of the differentiation between Man and Woman as portrayed in a questionnaire giving a choice under gender: male, female, and other; The profane language that has overtaken our communications; Man and Animal being equated in the opinion that there is no difference in value between a chicken and a human.
Dennis Prager concludes that it is the power of happiness as displayed by Chabad rabbis that is the secret of their success.