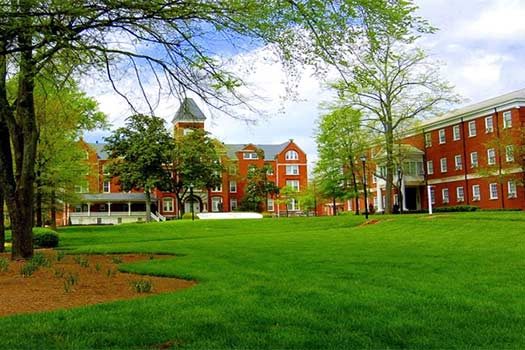 by Rabbi Sholom DovBer Avtzon
Being that the numerous shluchim and shluchos on campus are preparing for the upcoming year, I am posting an additional horaah (guidance) that the Rebbe gave Malka, which is pertinent for every Jew who goes to college or is moving out to live on his or her own to be conscious of. With the hope that if it is brought to the attention of the students and their parents before their boarding arrangements have been finalized, it will influence them to act accordingly.
As a reminder, last year I chronicled aspects of Malka's life. She came to the Rebbe in the mid 50's, shortly before her bas mitzvah, after being informed by her parents that she was adopted. Since the adoption papers were sealed, it was assumed that her birth parents were not Jewish and she would have to undergo a geirus. The Rebbe informed her in that Yechidus that her birth parents were Jewish and that they had died in a car accident. He requested of her a promise to keep Shabbos, Kashrus and visit him once a year. This is something she has kept the past six decades since that Yechidus, until today, notwithstanding the suffering of the loss of both of her adopted parents a few years later, in her late teens, and other extremely painful incidents.
As was recounted in the previous articles, at almost t every visit, the Rebbe would add a point in guiding her on this path. With her permission, I am sharing another guidance that the Rebbe gave, in order to benefit others. In order to clarify it somewhat, I added some explanatory words which are marked in the [ ].
At one point, she moved to a town where there was no other Jew living there and she was completely on her own. As both her biological parents and adoptive parents were survivors of the holocaust, there was no family to turn to.
Some time after she settled in the town, the Rebbe told her the following, and I am presenting it in her words.
There was a conversation in which the Rebbe explained to me that I must be aware that if a non-Jew were to live in the house with me [as an apartment mate], besides the numerous prohibitions involved if the non-Jew is a male, G-d forbid, even having a non-Jew female would also breach my commitment to maintain eating kosher and keeping the sanctity of Shabbos.
The inevitable cooking by a non-Jew [who's an apartment mate], even if [my] kosher ingredients were to be used, would make the food, dishes, pots and pans etc. forbidden for future use by a Jew, [as then it is bishul akum]. Likewise the non-Jew doing certain acts on Shabbos that are forbidden for a Jew to do, such as opening lights, would then make it forbidden for a Jew to derive benefit from that action, as [it is considered, as if] the non-Jew acted as a messenger for the Jew [as they are aware that the Jew cannot turn it on, so they will be turning it on for them to use. Additionally it potentially creates a situation] which makes it like the Jew did the forbidden act themselves etc. [The Alter Rebbe mentions this in the beginning of chapter 243 in hilchos Shabbos, that midrabanan we are machmir and say that the non-Jew is my messenger and it is as if I did the work myself].
Then the Rebbe added that he does not at all suspect someone with my Jewish soul would ever allow for a non-Jewish male [to share the apartment], G-d forbid, but even with having a non-Jewish female [share the apartment], there is a need to educate and prepare me on the topic because I should have "the medicine before the disease" due to the circumstances I am in.
As my arrangement is, before I post anything about her interactions with the Rebbe, I show it to her to check for accuracy, and this is what Malka replied as additional points.
It is very difficult to remember small details from so long ago – especially with the immense pressure to be as accurate as possible.
Jogging my memory: The Rebbe mentioned then the point of havdala is separation – "bein yisroel lo'amim" which is a theme of Shabbos and kosher – "lehavdil bein hatahor u'bein hatomei". This is why a Jew must never live with non-Jewish room/house mates.
However, I am not sure if he said "lehavdil bein hatahor u'bein hatomei" or the loshon hapossuk "bein hatomei u'bein hatohor" – he might have purposely reversed the order of the possuk. [Which is something the Rebbe did quite often, and I was told by mashpiim that it was in order not to say words of the written Torah by heart].
Malka concluded, "This is a lesson also to PARENTS, since the Rebbe filled in for my absent parents, to forewarn and fully educate their children (of all ages) of foreseeable situations BEFORE they encounter them. "
This week's article is in honor of the birth of my new granddaughter, larichas yomim v'shonim tovos. Eli and Baila may you both have tremendous chassidishe nachas from her and everyone else.
Rabbi Avtzon is a veteran mechanech and the author on numerous books on the Rebbeim and their chassidim. He is available to farbreng or speak in your community and can be contacted at avtzonbooks@gmail.com