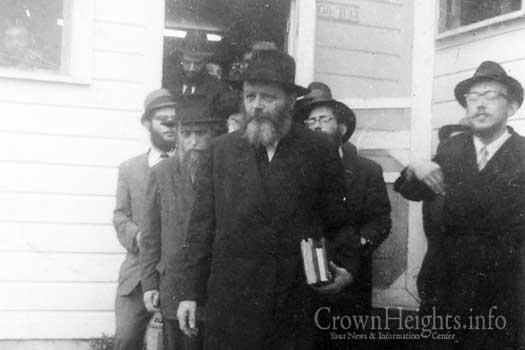 The Rebbe during a visit to Camp Gan Yisroel in upstate New York.
"Every year before the summer, generally at the Yud Bais Tammuz Farbrengen, the Rebbe would speak about Tznius," says Oholei Torah Mashpia Rabbi Michoel Seligson. At his suggestion, CrownHeights.info presents a new weekly feature for the summer months: a short thought of the Rebbe on tznius, as compiled by Rabbi Seligson.
A little background: Late 1969 much focus was placed on a new dress style. On Simchas Torah the Rebbe had already addressed the issue of tznius at length. When the N'shei Chabad mid-winter convention took place in Adar, the Rebbe set tznius as the prime theme of the convention. In Iyar, when the Rebbe spoke to the assembled N'shei Chabad, tznius was the topic.
The following is the continuation of a letter to N'shei Chabad from the 7th of Adar I 5730/1970, Rebbe's Igros volume 26 page 324 (free translation from Yiddish):
"There are those people, who as a result of their lack of Torah knowledge in general, and on the topic of tznius in particular, assume that the laws, regulations and customs relating to tznius, diminish the Jewish woman from her social privileges [is considered different from others –editor's note] or affect her dignity, and the like.
This is a false assessment. The truth is exactly the opposite. Our sacred Torah and our sages OBM have stressed numerous times the dignity and beauty of the Jewish daughter and woman. Many regulations were instituted exclusively to protect and preserve their honor and importance. Related to this, the well-known verse 'The glory of a princess comes from within' (Tehillim 45:14) is often quoted. The Torah describes the Jewish woman as 'glory' and 'princess', but requires this should express itself in a manner of 'inwardness', tznius.
But even from a logical perspective, we see, especially in these last years, what the collapse of tznius has led to. The shameless styles in women's clothing, aimed to provoke the low class traits of the animal soul, express the downfall of the modern world, as far as the basic foundations of morality are concerned.
The hefkerus and pritzus, rachmona litzlan, of a large part of today's youth has brought about shocking tragedies in many homes. It is definite that if these young people would have been raised with the foundations of tznius in accordance with our holy Torah, many tragedies could have been avoided, and many young lives would not have been destroyed.
In light of the above, I am of the opinion, that the matter of tznius needs to be established as one of the main features on the daily agenda in Jewish circles."
(To be continued)