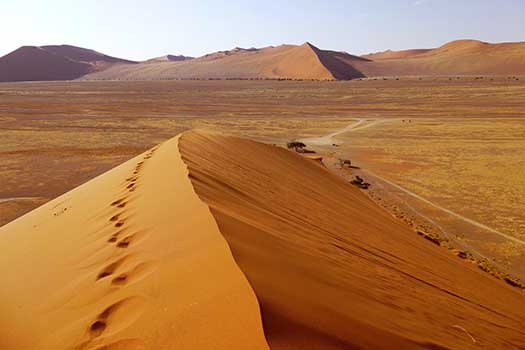 Our Parsha introduces the iconic biblical giant; our patriarch Avraham, with the words "Lech L'cha!" "And G-d said to Avram, 'Go to [for] yourself from your land and from your birthplace and from your father's house to the land that I will show you!'" (Breishis 12:1)
Avraham's importance in the Book of Genesis and his legendary stature as a man favored by G-d is unequivocal, much as was his own love for G-d. His legendary passion towards the Creator was second only to his wide renown as the pioneer of monotheism.
Yet all the greatness depicted in the Torah begins from when he was seventy five years of age. The Torah's narrative of Avraham is entirely bereft of his life's earlier achievements. They are rather left for the Midrash to uncover.
At the age of seventy-five when Avraham was given the command of Lech L'cha, the Midrash reveals, he could already look back upon a lifetime of unprecedented achievement. His inquisitive young mind discerned a greater truth implicit in the workings of the universe and consequently, came to know the One G-d.
Not only did Avraham make, what might be considered, the most important discovery of all, he furthermore proceeded to become a renowned teacher and mentor. By the time he was seventy five years of age, he had under his belt a rather long and impressive list of accomplishments that few, if any, could match. Among these accomplishments were a number of the legendary "Ten tests," for which he is well distinguished.
Lech L'cha is then not just an account of Avraham's intense faithfulness and piety, but rather a primal call for the spiritual transformation of humanity – a call that has so impacted the world it is impossible to imagine what it would look like had Avraham failed to answer the call.
In response to the call of "Lech L'cha," Avraham leaves his home in Mesopotamia to begin a pilgrimage to Canaan. Wondering and wandering he goes through the world and "Calls out to the people in the name of the Almighty."
A lone man pitted against the entire world, Avraham battles the entrenched paganism of his time, bringing many to a life of monotheistic belief and morality. Along the way he accrues wealth, a family, an entourage and a new name, which reflects his covenantal destiny to become the "Father of many nations." With time this too comes to pass.
Avraham, as we know, has proceeded to become the founding patriarch of the Israelite, Ishmaelite and Edomite peoples. Judaism, Christianity and Islam are, in fact, referred to as the "Abrahamic religions," because of the progenitor role Avraham plays in their holy books. He is also a progenitor of the Semitic tribes of the Negev, who trace their descent from the same ancestor.
Had Avraham not embarked on his odyssey to the "land that I will show you," we would not have a Jewish people, a Promised land, Judaism, the Ten Commandments, which have become the bedrock of modern civilization. Christianity, Islam and (possibly) Hinduism and Buddhism, as well as other Eastern disciplines, would likewise not have come to exist.
"If we had lived in the second millennium BC, the millennium of Abraham, and could have canvassed all the nations of the earth, what would they have said of Abraham's journey? In most of Africa and Europe, they would have laughed at Abraham's madness and pointed to the heavens, where the life of earth had been plotted from all eternity … a man cannot escape his fate. The Egyptians would have shaken their heads in disbelief. The early Greeks might have told Abraham the story of Prometheus … Do not overreach, they would advise; come to resignation. In India, he would be told that time is black, irrational and merciless. Do not set yourself the task of accomplishing something in time, which is only the dominion of suffering. On every continent, in every society, Abraham would have been given the same advice that wise men as diverse as Heraclitus, Lao-Tsu and Siddhartha would one day give their followers: do not journey but sit; compose yourself by the river of life, meditate on its ceaseless and meaningless flow." (Thomas Cahill, The Gifts of the Jews: How a Tribe of Desert Nomads Changed the Way Everyone Thinks and Feels).
In the above regard, the chronology of Avraham's story takes-on deep significance. The two thousand years since Adam, in which the world floundered in chaos and debauchery – as chronicled in the first two narratives of Bereishis and Noach – serve as a stark backdrop to the historic call of "Lech L'cha".
It underscores the relative universal civility and order brought-on by the "Lech L'cha" phenomenon; the state of humanity before Avraham and after.
"The Jews started it all—and by 'it' I mean so many of the things we care about, the underlying values that make all of us, Jew and Gentile, believer and atheist, tick. Without the Jews, we would see the world through different eyes, hear with different ears, even feel with different feelings… we would think with a different mind, interpret all our experience differently, draw different conclusions from the things that befall us. And we would set a different course for our lives."
"So, wayyelekh Avram ('Avram went') [are] two of the boldest words in all literature." (Cahill)
Consequently, it is quite obvious that every aspect and nuance of Avraham's journey is replete with critical lessons regarding the perpetual mission for which he and this progeny have been selected. To borrow a phrase from Pirkei Avos: "Ben Bag Bag said; learn it and learn it, for everything is in it, look deeply into it; grow old and gray over it. . ."
Given the above, the wearisome course of his legendary journey gives rise to some obvious bewilderment. Anyone who studied the story of Lech L'cha knows that Avraham's unwavering commitment and fervent obedience to G-d's historic command, led him straight into trouble.
As the narrative itself relates, after his long and arduous journey, when Avraham finally arrives to the place that G-d referred to as "The land that I will show you," with all its inherent rewards, he encounters nothing but dire famine. So pervading is the dearth that he could not remain there had he wanted. As a result of the rigid conditions which prevailed in the land, Avraham had to head for Egypt, which led to a litany of new Tzaros, as the narrative continues to describe.
What is the meaning of this and why would the Torah relate this? Why would the Torah squander, as it were, the archetypical episode of man's spiritual journey in a seemingly failed adventure, or at least in one that is fraught with trial and tribulation? What are we supposed to make of this?
The apparent answer is that the Torah is teaching us, for all of time, that the journey towards our inner purpose and higher calling is indeed fraught with challenge and obstacles, for it is our effort and persistence that G-d seeks. And only according to the pain is the gain.
So, the Torah sets the record straight at the very outset – the narrative of Avraham, the first Jew and his legendary journey. The Torah of reality and truth could and would not hide from us the fact that it is only through our faith and endurance that we can reach "The land that I will show you."
Okay, this seems reasonable; we can accept this explanation, after all, it rings with truth. It's consistent with everything Judaism teaches. But the quandary is not yet over.
Regarding the decision to leave the land of Canaan – the destination to which the Lord directed him – some of the commentators, Nachmanodies in particular, assert that Avraham has erred. They maintain that, despite the famine, his decision not to stay there was wrong and hence a violation of G-d's command, albeit of the most slight nature.
Now, it's one thing to say that the most pivotal human journey in the history of man was fraught with obstacles and challenge; it's a complete other thing to say that it involved error and sin.
We can accept the argument that Avraham, and consequently all mankind after him, are destined to encounter challenges that are beyond their power and control, in their spiritual journey, for that is how G-d chooses to run His world, so that He may elicit the highest potential in man so that we may reap the reward. However, to say that Avraham made a moral misjudgment is a whole other story. So the question returns once again.
Why would the story of man's foremost spiritual endeavor contain elements of wrong-doing and blunder?
Some people believe that man is a product of biology – the way his brain is wired – with little free choice. Indeed, there are modern scientists who argue that everything we do and experience can be reduced to a physical component in the brain.
Francis Crick, for example, who along with two colleagues won the 1962 Nobel Prize in medicine, stakes out an extreme position in his book The Astonishing Hypothesis: "You, your joys and your sorrows, your memories and your ambitions, your sense of personal identity and 'free will,' are in fact no more than the behavior of a vast assembly of nerve cells and their associated molecules."
Clearly such scientists have little regard for man's unique human "consciousness." They have reduced man to sophisticated animals, or mechanical devices, with little choice or free will. This view is clearly not in line with Torah, or any religious discipline for that matter.
While they may not be entirely incorrect, for even Judaism restricts man's free will to the area of Torah morality and commandments, still, to entirely disregard man's capacity for free will is to distort his essence and existential purpose, as well as his sense of accountability, reward and punishment, not to mention his Divine image.
As far as Judaism is concerned, man possesses a measure of free will and accountability over it. So, to return to our discussion, why must Avraham's prototypical journey contain the element of sin and violation of free choice?
Furthermore, how could the name of the Parsha, "Lech L'cha," which reflects the theme of the entire Parsha, contain such a negative account concerning our saintly ancestor Avraham, given the fact that "Lech L'cha connotes the idea of moving forward and ascent?
The Lubavitcher Rebbe provides a fascinating and insightful explanation to the question. The reason for this, says the Rebbe, is to teach us that even when a person sins, G-d forbid, he must know that in reality his sin, is part and parcel of his continuous spiritual advancement.
While this may be difficult to comprehend, and it's not necessarily important that we comprehend, the Rebbe asserts that even as we exercise our inherent free will, we are still governed on some level by Divine providence, accordingly even the downfall of man that comes about through sin, is not a true decent but rather part of the ensuing ascent. This is evident by the fact that through Teshuvah he is now able to reach an even higher level than before the sin.
This, of course, is not to say that sin is good, sin is clearly undesirable and the transgressor will inevitably pay for his sins. The latter notwithstanding, in the cosmic scheme of things, free will or not, man does not essentially interfere with the Divine cosmic design which is inherently positive. This is a true mindbender and a larger subject than what can be comprehensively dealt with in this limited forum.
What's most important, whether or not we completely understand the philosophy and logic, is to take the powerful message of Avraham's life-changing journey. In whatever lowly situation we might find ourselves, even if it is the result of our own choice and doing, we must not despair, because, whether we think it makes sense or not, ultimately our choices and even transgressions can be steppingstones to a greater future. It's just how G-d designed it.
May we merit the day when all sin and negative circumstance will be eradicated from the universe, with the coming of the righteous redeemer BBA.