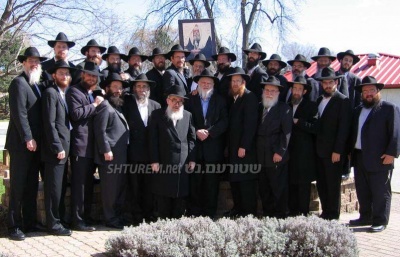 Shturem.net
The shluchim of Michigan got together at to mark 50 years of shlichus Chabad and serving the 60,000 Jews of Michigan. 28 shluchim, young and old, veteran shluchim and younger ones who recently joined the army of the Rebbe got together to discuss the significance of a "yovel" (50 years) and the impact that the shluchim had on the state.
More in the Extended

Sunday morning following a festive breakfast, Rabbi Kasriel Shemtov from West Bloomfield outlined the purpose of the conference. Rabbi Shneur Greenberg, shaliach in Commerce emceed a special session and reported on the various activities in the state.
That was followed by a dynamic discussion on "hiskashrus" of the family to the Rebbe that was conducted by Rabbi Yosef Y. Kesselman. Speaking at this session were Rabbi Berel Shemtov, his son Rabbi Yosef Yitzchok of Toledo, Ohio, Rabbi Aaron Goldstien of Ann Arbor and Rabbi Yisroel Weingarten of Flint.
In the evening the participants listened to an inspiring address by veteran shaliach of Texas, Rabbi Shimon Lazarov about "one shaliach makes another shaliach" and lifted the spirits of the shluchim instilling in them an enthusiasm to increase their efforts in their shlichus. That was followed by a farbrengen until the late hours of the night.
The second day of the conference was opened by the mashpia of Yeshivas Menachem Mendel, Rabbi Yosef Yitzchok Gurary, a yeshiva which is located in Detroit and has produced scores of shluchim and mekushorim tothe Rebbe.
After prayers and breakfast Rabbi BenZion Stein spoke about the 5oth year of shlichus and then the head shaliach who is responsible for the Shluchim empire in Michigan, Rabbi Berel Shemtov recalled the early years when he arrived on shlichus to Detroit.