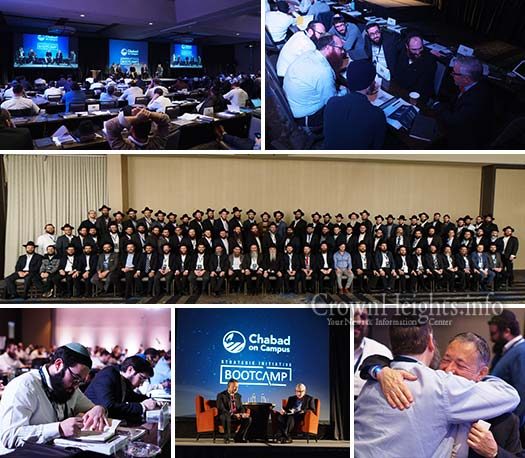 The work of the Campus Shluchim is never done. They are on call 24/7. Their doors are always open. They are the cooks, the chaperones, the confidants, the teachers. They are the fundraisers, the website designers, the visionaries and the graphic artists.
With so many hats to wear, how do they figure it all out?
One word: Bootcamp.
Hosted by Chabad on Campus International (COCI) at the Hilton in Parsippany, New Jersey, 100 Shluchim from around North America, and as far away as South Africa, Australia, England and Argentina, participated for three days last week in an intensive professional development Bootcamp.
Shluchim took part from dawn to well beyond dusk in shiurim, workshops and seminars intended to provide them with the critical tools for their Chabad Houses' continued growth.
"This program impacts far more than just the Shluchim who attend," said Rabbi Meir Rubashkin, co-dreictor of Chabad at Oneonta. "It creates better family lives for their wives and children and deepens the connection between them. It also impacts the lives of every Jewish student on campus as it gives the Shliach the proper mindset to both grow his mosed but also deepen his connection with his donors and students."
The Bootcamp curriculum and training program was designed by Rabbi Elazar Green, director of COCI's Strategic Initiative. The program is "unique to the Jewish world," according to Rabbi Avi Weinstein, COCI's director of administration.
"We have seen from previous years what a powerful impact this program has had on so many campus Chabad Houses' growth," said Weinstein. "Campus Shluchim are reporting that it has been a game changer for their mosdos. The main result is that, I'YH, many more Jews will become involved with Yiddishkeit."
Over the course of three days, Shluchim worked with world-class trainers including leadership coach and fundraising trainer Marc A. Pitman, donor retention specialist Roger Craver, social media guru John Haydon and fundraising communicator Jeff Brooks.
On the first night of Bootcamp, Shluchim were joined for dinner by Rabbi Moshe Herson. He shared fascinating stories of his interactions with the Rebbe.
Shluchim were also able to pick the brain of one of today's most prominent philanthropists dedicated to Jewish causes, Mr. George Rohr, the principal patron of Chabad on Campus and COCI.
At the closing lunch, Rabbi Moshe Kotlarsky, Chairman of COCI, inspired the Shluchim with insights into Shlichus along with anecdotes from his many years of helping Shluchim and going on missions for the Rebbe.
The long intense days were broken up with brief high-intensity workouts, led by trainer Shmuel Balisok.
Though this Bootcamp is over, the learning has just begun. The program is followed by six months of concentrated one-on-one coaching with professional coaches to help Shluchim incorporate what they learned at the Bootcamp into their Shlichus.
"Bootcamp is more than a training conference, it is the beginning of a journey," said Rabbi Yossy Gordon, executive vice president of COCI. "We help Shluchim take the lessons home and apply them in real life with a follow-through program that includes webinars, ongoing coaching, and conference calls. With Siyata DiShmaya, the Rebbe's brachos, and the Shluchim's hishtadlus, Chabad houses on campuses are experiencing growth and success to levels that were previously impossible."
Photos by Avraham Edery