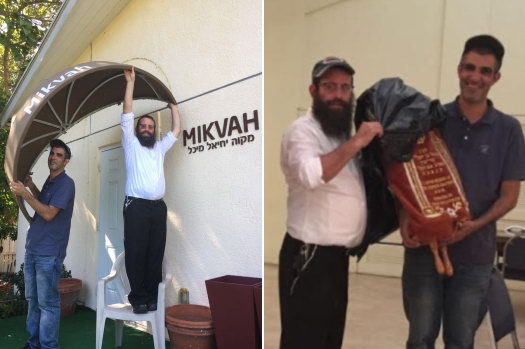 Rabbi Yaakov Zucker, director of Chabad of Key West, Florida prepares for hurricane Irma. File Photos.
Two Florida Shluchim launched a lawsuit against the Federal Emergency Management Agency claiming religious discrimination after they were barred from receiving hurricane aid. One month later FEMA has reversed course and will allow religious institutions to apply for and receive federal aid for disaster recovery.
In a policy reversal that comes one month after a federal lawsuit was filed by two Florida synagogues, the Federal Emergency Management Agency has changed its policy to allow religious organizations to apply for disaster aid grants in the wake of hurricanes Harvey and Irma.
Chabad of Key West and Chabad of the Space Coast in Satellite Beach sued FEMA on Dec. 4 in U.S. District Court in Key West, calling unfair the former policy that shut them out of such aid. The lawsuit, though, will continue in federal court until the policy plays out for the synagogues, according to an attorney at the forefront of the case.
"The policy as its written is a good policy," said Diana Verm, a lawyer with The Becket Fund for Religious Liberty in Washington, D.C. "Once it's implemented, then that will be a victory for the lawsuits. For now, it's still being implemented."
FEMA has promised to treat the synagogues equally so it complies with the Constitution, Verm said.
"As long as they're complying, we don't have a problem with it," she said.
FEMA announced last week that houses of worship no longer would be excluded from eligibility for FEMA aid. The assistance is limited to costs not covered by a U.S. Small Business Administration loan.
Last year, three Texas churches severely damaged by Hurricane Harvey year sued FEMA over the policy, accusing the agency of religious discrimination.
Irma, which struck the Keys on Sept. 10, left Chabad of Key West with roof damage and interior water damage that requires permanent repairs plus mold remediation, the lawsuit reads.
Both synagogues have applied for Small Business Administration loans, the lawsuit states, but nothing guarantees they will receive them or that the loans will be enough to cover all the damage.
Synagogues are in the same company as other private nonprofit societal institutions such as community centers and zoos, the lawsuit states.
"The synagogues are not seeking special treatment; they are seeking a fair shake," according to the 29-page suit. "And they need to know now whether they have any hope of counting on FEMA or whether they will continue to be excluded entirely from these FEMA programs."
FEMA hasn't yet responded to the lawsuit in court.
In response to FEMA's policy change Rabbi Yaakov Zucker, director of Chabad of Key West, said "We are delighted that FEMA has promised to treat our synagogue equally with other charitable organizations. We continue to work with our community as it recovers from Hurricane Irma, and this news makes the load a bit lighter."