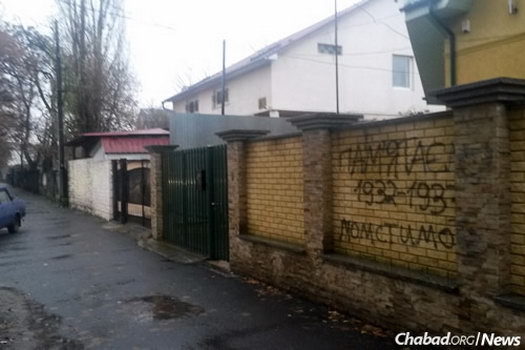 "We remember 1932-1933," "Take revenge," spray painted onto the wall of the synagogue and Jewish community center in Uzhgorod, Ukraine.
From Chabad.org by Dovid Margolin:
A day after graffiti calling for "Death to Kikes" appeared on the wall of the Hesed Shpira Jewish social services building in Uzhgorod, western Ukraine, Chabad-Lubavitch Rabbi Mendy Wilhelm awoke to find a threatening anti-Semitic slur spray painted onto the wall of his synagogue and Jewish community center in the same city.
"We remember 1932-1933," reads the graffiti. "Take revenge."
The threat refers to the 1932-1933 Soviet-engineered famine in Ukraine, which killed 3.9 million people and is known as Holodomor. The graffiti appeared on the Hesed building on Nov. 25, which is Ukraine's official Day of Remembrance of the Victims of Holodomor. Although great numbers of Jews died during the famines caused by Stalin's policy of forced collectivization, it is a common anti-Semitic trope to blame the Jews for the events of those years.
"We have a preschool, community, Torah classes, we need to do something about this," says Wilhelm. "There are children here constantly; it's frightening."
In reaction to the threat Rabbi Yechiel Eckstein, president of the International Fellowship of Christians and Jews, allocated funds to Uzhgorod's Jewish community to immediately upgrade its security measures.
Wilhelm, who moved together with his family from the United States to Ukraine five years ago, says that there is something that feels different about the recent threats.
"The fact that there have been two such threats, it seems they're sending a message," says the rabbi. "The government needs to understand that this is very serious."
"We are monitoring the situation in the city and doing everything possible to ensure security and protection for the Uzhgorod community," said Daniel Gordon, outreach director of the Federation of Jewish Communities of the CIS, in a statement. "We call upon the police to find [the perpetrators] as quickly as possible."
Redoubling Efforts to Grow Jewish Life
Just prior to World War II Uzhgorod, known by its Hungarian name of Ungvar, had close to 10,000 Jews, or nearly 30 percent of its population. Most of Ungvar's Jews were killed in the Holocaust and the city became a part of the Soviet Union following the war.
Last year, also on Holodomor memorial day, Uzhgorod's Holocaust memorial was defaced with red paint and anti-Semitic flyers.
Despite current fears, Wilhelm says that in addition to security his community's response will be to redouble their efforts to grow Jewish life in the region. With Chanukah coming up, he plans on once again erecting a giant menorah in Uzhgorod's city center, not far from its old historic synagogue (today used by as a philharmonic hall), and gathering even more people. He will also be conducting Chanukah programs in towns with Jewish populations throughout the Zakarpattia region, including Khust, Mukachevo (Munkatch), and Vynohradiv.
"I am meeting new Jews here every week," says Wilhelm. "There's a lot of work to do here, and although we're taking necessary precautions, we're not going to let such threats stop us."